Amerex donation puts spark in school's electric car
November 17, 2016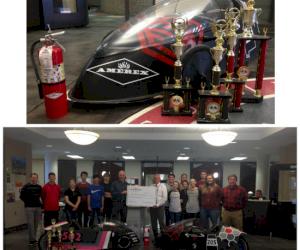 Each spring Alabama Power sponsors the Electrathon electric car competition at Barber Motorsports Park in Birmingham. High school students from Alabama and Georgia build small electric cars from scratch and race them, not so much to see who wins, but to find out which cars can last the longest during two one-hour-long races. Electrathon exposes the students to real-life engineering and skilled trades.

Hewett Trussville High School won first place this year and was considered the team to beat in 2017. But a lack of funds was going to keep them out of the competition, that is until Trussville-based Amerex stepped up and donated $4,000. Amerex's donation means Hewitt Trussville can not only enter a car, but can now afford to switch to a lighter aluminum frame and upgrade their power supply to be even more competitive. Vic Modic, VP of manufacturing at Amerex, says they're looking to improve their relationship with the school's STEM (Science, Technology, Engineering, Math) students to make it easier to find good, young STEM talent in the future.

We'll be cheering for Hewitt Trussville's Amerex-sponsored car to take the checkered flag to victory lane.