McWane products spotted at same jobsite
January 13, 2020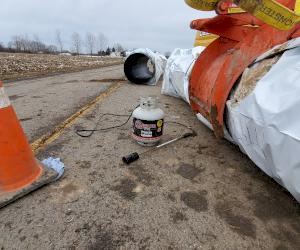 From time to time in our quest to spot McWane products in use, we come across different McWane products working together. McWane Ductile team member Ken Rickvalsky saw this firsthand at a large project ongoing in Leroy NY, near Rochester. The Monroe County Water Authority (MCWA) will be spending more than $100 million dollars in the next 4 years on new pipelines and pump station upgrades.

Randsco Pipeline is installing the current phase which includes 8,000 feet of McWane ductile iron pipe as well as a majority of the products in the McWane Ductile catalog including Tyton, TR Flex, flanges, tangential outlets, special maintenance port pipe assemblies, etc. made by McWane Ductile in Coshocton, Ohio.

Weather in Rochester, New York in January can be brutally cold and naturally there is ice, lots of it, frozen puddles of it, in just about every pipe bell, specifically in the gasket seat area. And what do you think the contractor is using to address this? A propane torch using a Manchester Tank propane cylinder.

Ken said, "The contractor got a big kick out of it when I told him that McWane owned Manchester Tank too and thanked him for keeping it all in the family. This contractor is very efficient and has a well-trained crew and as many as four excavators working at once, digging trenches, burying pipe, grading the land back to its original conditions, etc., all at the same time. Their goal is to install and test 8,000 feet of pipe by the end of January. That's 8,000 feet in just 5 weeks of work, in the dead of winter, in western New York state. That's impressive! McWane Ductile Ohio is working closely with the contractor to make sure the pipe is cast, fabricated and delivered in the required sequence.