Help Me Ditch Doctor,  
The inspector on this pipeline project came out here and just told us we are laying pipe in the wrong direction. He said the bells have to face the other direction like the plans show. He wants us to dig up the 1,000 feet of pipe we've already installed and reverse each pipe. Is he for real? Does it really matter?
No one ever told me that the direction of the pipe makes a difference before this. I need your immediate help on this. You can call me at 1-855-BIG-PIPE if that's easier for you. Thanks so much!
Sincerely,  
Stopped in Stockton  
Dear Stopped, 
One thing you do not want on a job site is to be stopped.  You want production to flow. You don't want a simple question to interfere with the production and installation of a pipeline. So the real question here is, "Does the direction of the pipe really matter, and does that affect the flow of the water through the pipe?"
The simple answer is no; it does not matter. With Ductile iron pipe, when the joint is assembled, you get a steady flow, and it doesn't matter which direction the pipe is facing. In fact, contractors often want to install pipe in different directions, dictated more by the laying conditions than by the flow. Again, it doesn't matter which direction the pipe is going.
Another comparison of this is fittings. See the pictures I've included below. How many times are fittings installed in a water line? Do you pay attention to which way you installed the fitting? No one ever asks that question, but it's really the same thing. Whether it's a piece of pipe or a fitting, Ductile iron pipe and fittings make no difference in which direction they are installed.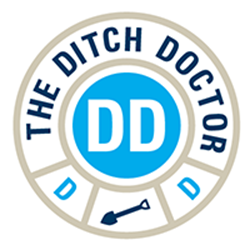 If you have any issues, I'd be happy to chat further with the inspector about Ductile iron pipe. Have him give me a call.
Hoping your project gets flowing again,
The Ditch Doctor
Need Assistance with Your Waterworks Project?
If you have any questions regarding your water or wastewater infrastructure project, be sure to reach out to your local McWane Ductile representative. We have team members who've managed small and large water utility systems, served in engineering consulting firms, and bring decades of experience in solving field issues involving pipeline construction and operation. From design to submittal, to installation, we strive to provide education and assistance to water professionals throughout the water and wastewater industry.