Roy Mundy, P.E., ENV SP, Assoc. DBIA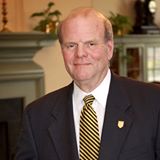 Roy Mundy, P.E., ENV SP, Assoc. DBIA, currently serves as Senior Regional Engineer for McWane Ductile, assisting utilities and engineering firms with value engineering of pipeline projects, education in pipeline material selection, and providing assistance with specification development and updating. Roy has a BS in Civil Engineering from West Virginia Institute of Technology; MS in Engineering Management West Virginia University College of Graduate Studies; and is a Registered Professional Engineer in six states; ENVISION Sustainability Professional. Prior to McWane Ductile, Roy served as Lead Executive with the American Water System, retiring as President/CEO of Kentucky-American Water Co. Roy has served as Section Chair and is on several national committees of AWWA, Board of Directors and national committees of NAWC, Chair of ORSANCO, member of Kentucky Infrastructure Authority. He is currently serving on AWWA – Business Practices Standards Committee, the KY/TN Section Management Committee, and the Water/Wastewater and Legislative Committees of DBIA. Roy is a member of AWWA, NSPE, KSPE, ASCE, DBIA, and KYRWA.
"I joined McWane Ductile 5 years ago after spending most of my career in the water industry in the private water utility sector," said Mundy. "I enjoy the opportunity to work with engineering firms and utilities in assisting with value engineering projects and providing education on aspects of our products. I enjoy restoring classic cars, but foremost enjoy time with my family traveling and working around our small farm in Kentucky."