Why Is Your Bottom-Line Important to Us?
For more than three decades, I had the privilege to serve within the nation's largest investor-owned water utility. During that time, I clearly saw the advantage of a financially sound utility. Whether it be having the resources to invest in needed facilities, provide a work environment that would attract well-qualified people, or purchase needed supplies and equipment to operate the business effectively. These are just a few advantages of maintaining a strong bottom-line.
Similarly, other stakeholders in the water and wastewater industry, such as consulting engineers, distributors, and contractors, strive to have a solid bottom-line to serve their customers effectively. Thus, strong bottom-lines for stakeholders in the water and wastewater industry are beneficial for the water industry as a whole. This fact is something McWane Ductile recognizes, and therefore we have committed our resources to assist stakeholders in enhancing their bottom-line.
So, Just What Are These Resources That McWane Ductile Has to Offer?
First among those resources is experience. Our Sales Operations team is made up of diverse backgrounds, which can better understand the needs of the respective customer.
My own experience in managing systems ranging in size from 15,000 to 350,000 population provides an appreciation of the everyday challenges a utility faces. These include an understanding of unaccounted for water, service outages, water quality issues, needed capital investment, financing models, and depreciation to mention a few issues that relate to our product.
A few blogs authored by Mundy:
Another staff member (John Simpson) has worked as a consulting engineer for water and wastewater utilities. His background provides insight into the relationships developed between the engineer and utility, recognizing those responsibilities in designing projects with attributes that are in the best interest of the utility. Again, issues that relate to our product.
Some blogs authored by Simpson:
One team member (Ken Rickvalsky) has several decades of field experience involving primarily ductile iron pipe, although being exposed to an entire spectrum of pipeline issues of varying materials. Through this institutional knowledge, there exist very few field problems that cannot be readily identified and corrected through previous experience. Ken was the originator of The McWane Pocket EngineerTM, an app for water professionals that provides access to calculations in seconds, that are essential in the field and would otherwise take valuable time to compute. As a degreed petroleum engineer with significant consulting design experience as well, Ken brings a unique skill set to whatever needs you may have with utility designs and installations.
A few blogs by Rickvalsky: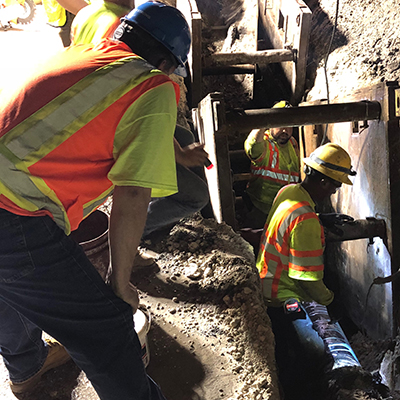 Our technical team also has a member (Jerry Regula) that has worked for well over a decade within in the foundry at various positions. This experience provides a unique insight into how Ductile iron pipe can and should perform under varying conditions, adding even further to forensic assessment of field issues.
A few blogs authored by Regula:
We also have a team member (John Johnson) with a background specific to pumps and motors on water and wastewater facilities, adding to the expertise as to how these facilities affect pipelines. He is currently part of the ASCE committee that is developing a MOP for Seismic Earthquake Resistant Ductile Iron Pipe (ERDIP).
Some blogs by Johnson: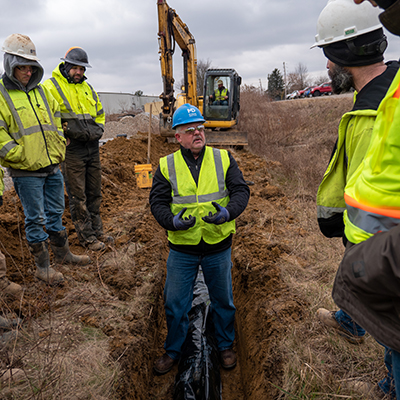 Professional Credentials and Certifications
The credentials of our team members also become important as we offer resources to enhance our customers' (or potential customers') bottom-line. We have several Registered Professional Engineers with educational background and certification to review designs, specifications, specialty applications, etc. in providing value engineering recommendations regarding efficiency and effectiveness of pipeline design and operation.
Corrosion control is a crucial factor when it comes to pipeline design and installation. Our NACE Certified Technicians have received the training to understand, assess, and remediate corrosive environments surrounding pipelines, offering proper mitigation measures if needed.
Design-Build projects are becoming more prevalent throughout the industry and understanding the relationship and specific requirements on these types of projects are extremely important. Our credentialled Assoc DBIA team members understand the respective roles of Design-Build stakeholders and can incorporate McWane Ductile as an active partner on the project. Through this knowledge, McWane Ductile is positioned to add resources to a Design-Build project as an integrated partner through services such as estimating and line drawing services, adding to the bottom-line.
Communities that emphasize environmental construction methodologies can be assisted by our ENVISION SP credentialled team members who can assist in directing projects toward enhanced ENVISION point values.
How Can These Resources Be Made Available to Me?
Utilities have called upon our technical team on many occasions to assist in education on the various attributes of pipeline materials, including:
These topics are provided via Lunch & Learns and now virtual webinars. Costs can be applied to all these factors to enhance the bottom-line of the utility. Additionally, we have assisted utilities in specialty designs, and specification reviews wherein projects can be constructed most efficiently and effectively.
Consulting Engineers representing the utility can benefit from these services, with McWane Ductile technical team members working with them throughout the pre-design, design, and bidding stages. In addition to the areas noted previously, we have successfully offered recommendations regarding:
We have also aided with funding models to assure the consultant provides the utility with a value-added product.
Contractors are assisted in a variety of ways to help ensure a well-constructed project. Our product engineers consistently provide pre-construction education on pipeline installation methodology prior to installing the first joint of pipe. This assistance can also extend to educating the contractor on lay schedules incorporated with certain pipe types.
We have also worked with contractors after construction is complete, assisting with any troubleshooting issues such as hydrostatically testing the pipeline to ensure its integrity. Providing these resources to the contractor during all stages of construction enhances their bottom line and, ultimately, the owner's bottom line.
Examples of How McWane Ductile Added to the Bottom-Line
A large water utility in the Northeast was proposing to install ten miles of 36" transmission pipeline. The utility was considering two pipeline materials—Ductile iron and steel. In working with the design engineer during the pre-design phase through education of both materials' attributes, it was noted the utility would save more than one-and-a-half million dollars over the design life of the pipe by using Ductile iron instead of steel due to hydraulic efficiency.
The ultimate decision of the engineer was to utilize Ductile iron pipe for this project. This decision not only added to the bottom-line of the utility through operating cost savings but added to the bottom-line of the consultant through the utility's confidence in an efficiently designed project and continued relationship to work on future projects.
Assurance of Available Product Can Enhance the Bottom-Line
McWane Ductile manufacturing facilities are strategically located throughout the country in Phillipsburg NJ, Coshocton OH, and Provo UT. The positioning of our foundries not only provides geographical efficiencies when shipping our products, which many times can add economic advantage on a project by not having to stockpile an inordinate amount of pipe, but these multiple locations that are geographically segregated provide redundancy in our manufacturing process.
We normally note such events as natural disasters or work stoppages, which can be mitigated by shifting the manufacturing load to another facility. Today we must sadly include terrorism and pandemics on the list. However, regardless of the cause, our redundancy and location of manufacturing facilities can enhance the bottom-line by assuring the availability of materials.
One More Tool to Enhance the Bottom-Line
The McWane Pocket Engineer is a free resource to all stakeholders, providing assistance, and ultimately cost savings through its use. Although the Pocket Engineer contains contact information for McWane associates, DIPRA publications, virtual plant tours of our foundry, archived Pipe Economy publications, and product specifications, it also contains numerous calculators to assist everyone. Some functions related to these calculators include:
After introducing this tool, we have received numerous accolades from users indicating how they have improved their efficiency, enhancing their bottom-line. To use the online version of the Pocket Engineer free at any time, go to pe.mcwane.com. Download versions of the Pocket Engineer are available for free at Goggle Play or in the App Store.
While the manufacturing standards for Ductile iron pipe provide the minimum performance requirements for the product, the team at McWane Ductile takes it one step further. By offering a wide range of services and assistance to our customers, our "product" is not just the pipe we make. With our experienced personnel and tools like our Learning Center and Pocket Engineer, we build relationships that make life a little easier for us all and enhance the bottom-line of our customers and prospective customers in the industry. Check out our Sales Team page to find a sales representative in your area, while we together build Iron Strong Utilities for Generations.
Check Out All Our Digital Offerings