After being in the water and sewer industry for almost 15 years, I can safely say a question I hear frequently is "Can Induron's Protecto 401TM Ceramic Epoxy be used in potable water service applications?" And that is exactly what we are going to talk about in this Iron Strong Blog. We all know it when we see it, the pipe with the red bell and spigot. It sticks out like a sore thumb so that it can be noticed without any confusion. But where can it be used and what is its purpose?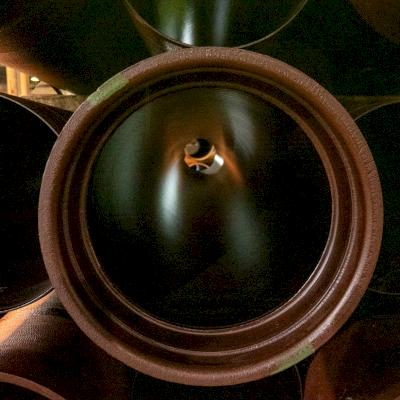 A Little Background on Protecto 401
First, a little history and information about the company and the product itself. In 1979, Induron Coatings, Inc. began a two-year research and development process that led to a product known as Protecto 401. Protecto 401 is applied to the interior of Ductile iron pipe and fittings, utilizing specialized application equipment and stringent specifications. 
The lining is designed to be applied at a nominal 40-mil thickness. A nondestructive pinhole detection test, and a thickness test, are performed to ensure a sound, chemically-resistant protective lining for Ductile iron pipe and fittings.
Protecto 401 – Its Uses, Its Purpose, Its Limitations
Now that we have a little background information let's talk about where this product can be used and its purpose. Protecto 401 is intended for use in domestic sanitary sewage lines. Its purpose is to protect the Ductile iron pipe and fittings it is applied to from harmful gasses, Hydrogen Sulfide primarily, that get trapped inside the pipelines.
Protecto 401 is meant to help extend the life of sanitary sewer lines by not allowing the gasses to penetrate and harm the Ductile iron pipe and fittings used in these lines. All pipe and fittings are marked by approved applicators such as McWane Ductile "for sewer use only." (Rowell, C. 2020) Protecto 401, much like other sewer linings for Ductile iron pipe, have not been tested to the NSF/ANSI 61 standard for potable water.  
Although sewer linings may be used in "reuse" water applications such as cooling tower piping and irrigation, you should always consult your local McWane Ductile Representative prior to the installation of these applications. Another potential use of this product is "chemical injection for odor control, but this application may damage the pipe, fittings, gaskets, and/or protective linings-and should be undertaken with extreme caution." (Induron)
So, there you have it, Protecto 401 is intended to be used for domestic sewer applications to help protect Ductile iron pipe and fittings from harmful gases and is not intended for any potable water applications. If you desire to use this product for any other reason, you should contact your McWane Ductile representative to determine if it is safe for your intended use. If you ever find yourself having to repair Protecto 401 in the field, be sure to check out this instructional Iron Strong Blog with video and downloadable tip sheet by my colleague, Clinton Fowler.
If Not Protecto 401, Then What?
At this point, you must be asking, "Well then, what can I use for water service applications that might protect the pipe and fittings in a similar way to that of Protecto 401?" You may want to first examine your treatment process and how that may be affecting your potable water supply. Beyond that, McWane Ductile recommends using Ceramapure PL90 Ceramic Epoxy. Ceramapure PL90 Ceramic Epoxy has been used for many years in potable water, raw water, and sewer applications. 
"Ceramapure PL90 is NSF/ANSI 61 certified for pipes down to 4 inches in diameter. Ceramapure PL90 is considered "dual-use" and may be used with force mains, gravity sewers, water treatment filtration systems (safe for membrane filtration), chemical injection points, and storm sewer outfalls." (Rowell, C 2020). For more another helpful Iron Strong Blog by my colleague, Jeremy Gwin, see Can I Use Cement-Mortar-Lined Ductile Iron Pipe for Sewer Applications?
Need Assistance Specifying the Best Solution for Your Ductile Iron Pipe Installation?
I hope this blog was informative and helped clear up any questions or confusion about where Protecto 401 can and cannot be used, and its intended purpose. Remember to always check with your McWane Ductile representative if you have any questions or concerns regarding Protecto 401 or Ceramapure PL90. Our intent is to provide the most accurate information to help you make the correct choice for your specific situation.
We have team members who've managed small and large water utility systems, served in engineering consulting firms, and bring decades of experience in solving field issues involving pipeline construction and operation. From design to submittal, to installation, we strive to provide education and assistance to water professionals throughout the water and wastewater industry.
Check Out All Our Digital Offerings