Have you ever been asked to supply a submittal for one of your construction projects? As we all know, water, electricity, gas, and fiber optic are critical to infrastructure today, with many facets involved in each project. These installations must be constructed to adhere to the specifications required by the engineer and demanded by the owner. Most projects, whether they are public or private, require a preconstruction submittal package that ensures all the product requirements are being met. In this Iron Strong Blog, we cover the creation and content of product submittals in more detail as we provide step-by-step instructions for utilizing the McWane Ductile Submittal Builder.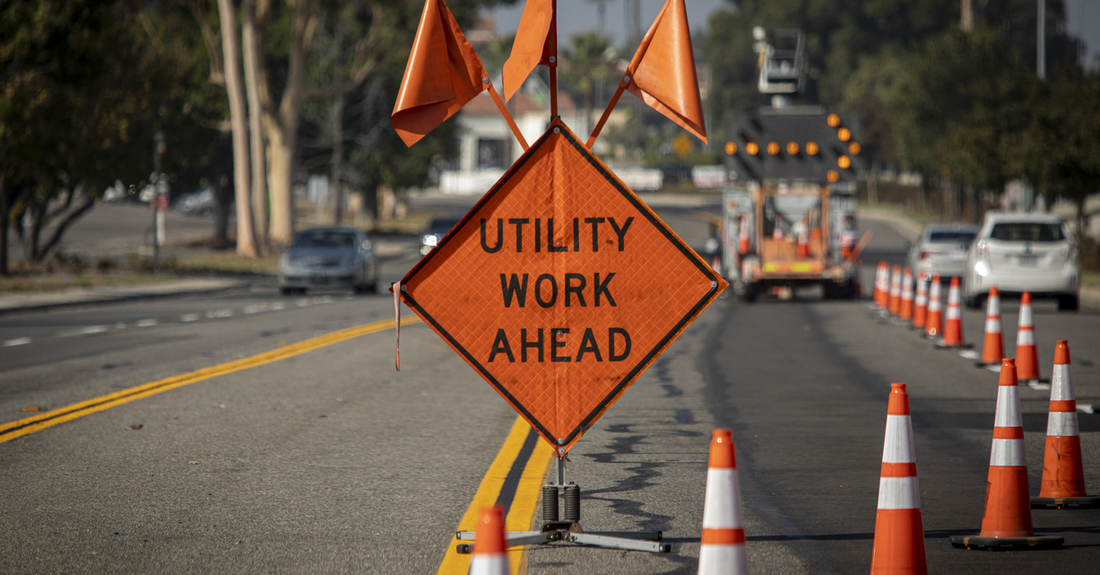 Image source: iStock
WHAT IS A SUBMITTAL?
Construction submittals compile relevant documents provided by the products' manufacturer, including material performance data, illustrative drawings, and pertinent certifications governed by the American Water Works Association (AWWA), Factory Mutual (FM), and Underwriters (UL), among others. Critical data provided include product dimensions, pressure ratings, and installation instructions. These documents serve as a menu of parts from which the pipeline will be constructed. And quite often, like in many restaurants…no substitutions permitted!
WHEN SHOULD I PROVIDE A SUBMITTAL?
The "earlier, the better" is a good rule of thumb to avoid costly delays. Additionally, creating the submittal package can often lead to the rise of important questions or concerns about the design, which may have inadvertently been overlooked earlier. Preparing a submittal package often becomes a reliable judge of a project's fitness to be built "as drawn" or specified. As mentioned previously, best practices dictate waiting until submittals have been approved before placing a product order or beginning construction.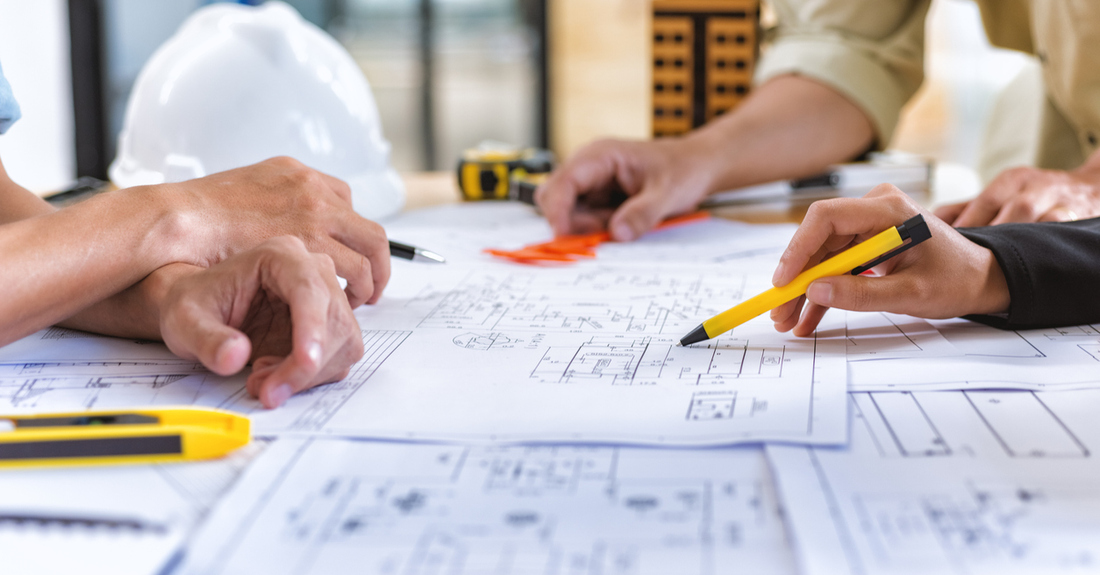 Image source: iStock
HOW DO I CREATE A GREAT-LOOKING AND PROFESSIONAL SUBMITTAL?
Creating a professional submittal for Ductile iron pipe is as simple as point, click, and submit. Below are some easy-to-follow steps on how to use the McWane Ductile Submittal Builder:
STEP 1:
On your computer or smartphone, go to McWaneDuctile.com and click the "Build my Submittal" button on the home page.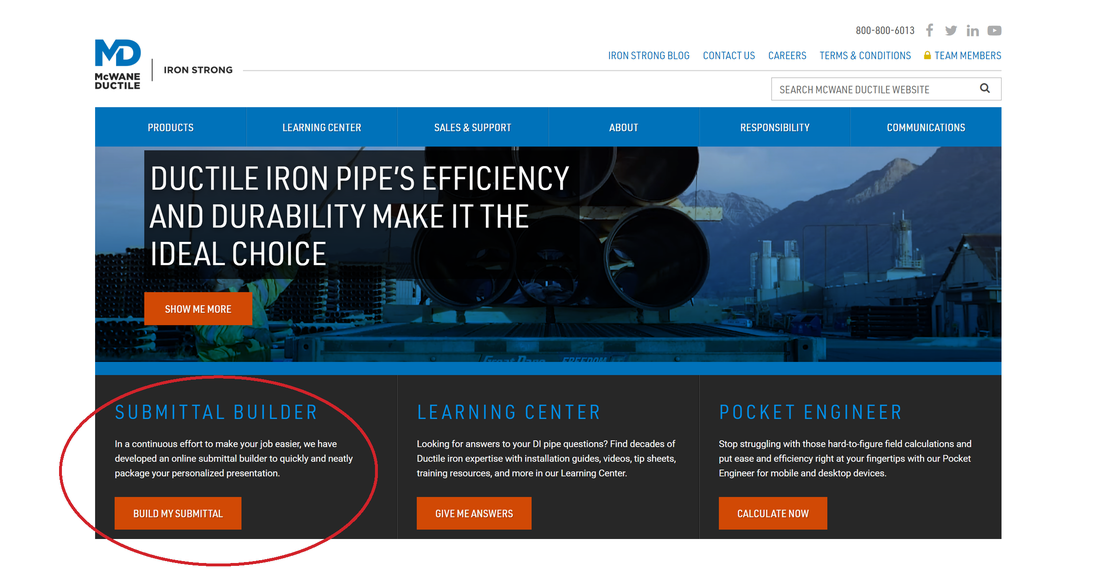 STEP 2A:
A list of AVAILABLE PRODUCTS is displayed. Click the [+] to expand the submenu for selecting products within that category. Click on the product's title to view documents available for a specific product.
STEP 2B:
AVAILABLE DOCUMENTS for that selection will appear in the right-hand portion of the screen. You can inspect a document using the PREVIEW feature in the right margin. Select the desired document(s) by clicking the check box to include them in your submittal.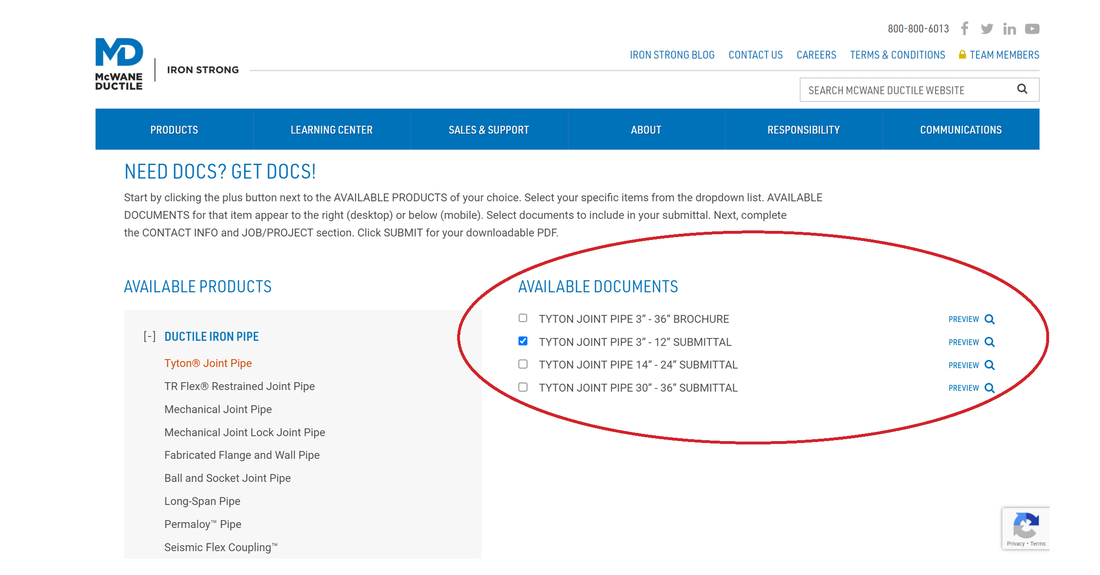 STEP 3:
Review the AVAILABLE PRODUCTS menu and select any additional material required for your project.
For instance, if restraining gaskets are required, select the Sure Stop 350™ Gasket option. This section also includes a specialty gasket tip sheet for applications such as extreme temperatures and chemical resistance. Otherwise, the default inclusion of gaskets will be standard Tyton® SBR.
You can deselect any document at this stage simply by unchecking it. Your SELECTED DOCUMENTS will appear in list format near the bottom of the screen.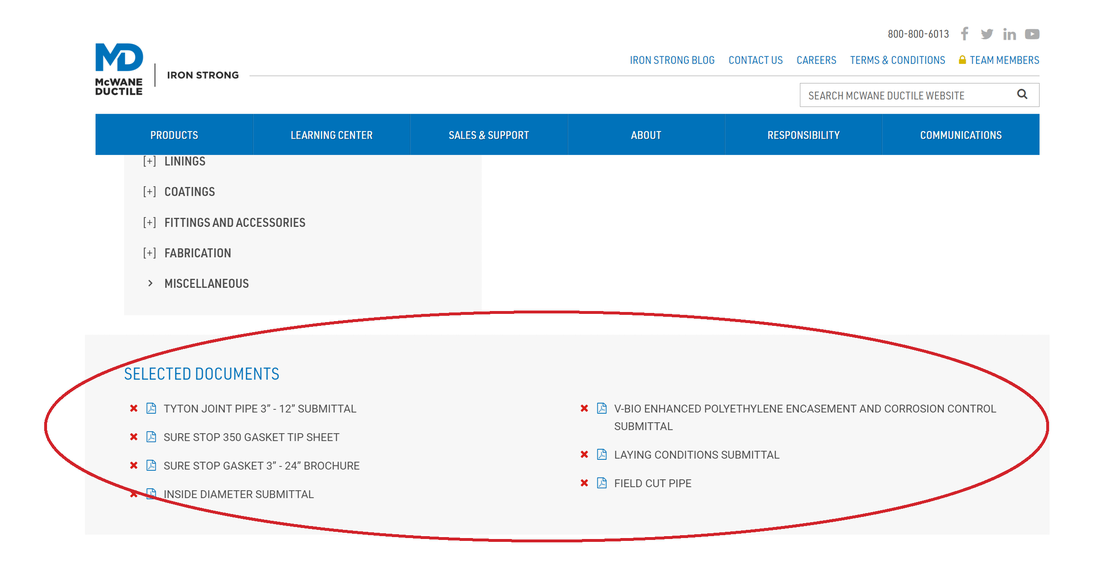 STEP 4:
Complete the CONTACT INFO section. If desired, this information will be used to create a custom cover page for your submittal. Click the appropriate boxes at the bottom of the CONTACT INFO section if the project requires a general certification or has a domestic requirement. Any optional information entered in the JOB/PROJECT fields will also appear on your cover page. Required fields are noted with a red asterisk.
STEP 5:
Click the SUBMIT button to create a downloadable PDF document. Don't worry! You can return to the Submittal Builder to amend your PDF during your current session by selecting the REVISE PREVIOUS button. Or you may choose to START NEW to begin a fresh submittal package. Download and save a copy of your PDF, and then you may highlight specific product information pertinent to your project.
IMPORTANT NOTE: The McWane Ductile Submittal Builder only covers products manufactured or provided by McWane Ductile. Therefore, the results of using our online Submittal Builder would be combined with products from entities that make or provide appurtenances that turn pipe and fittings into an actual pipeline, such as valves, hydrants, air releases, brass, and copper parts for services along the pipeline, etc.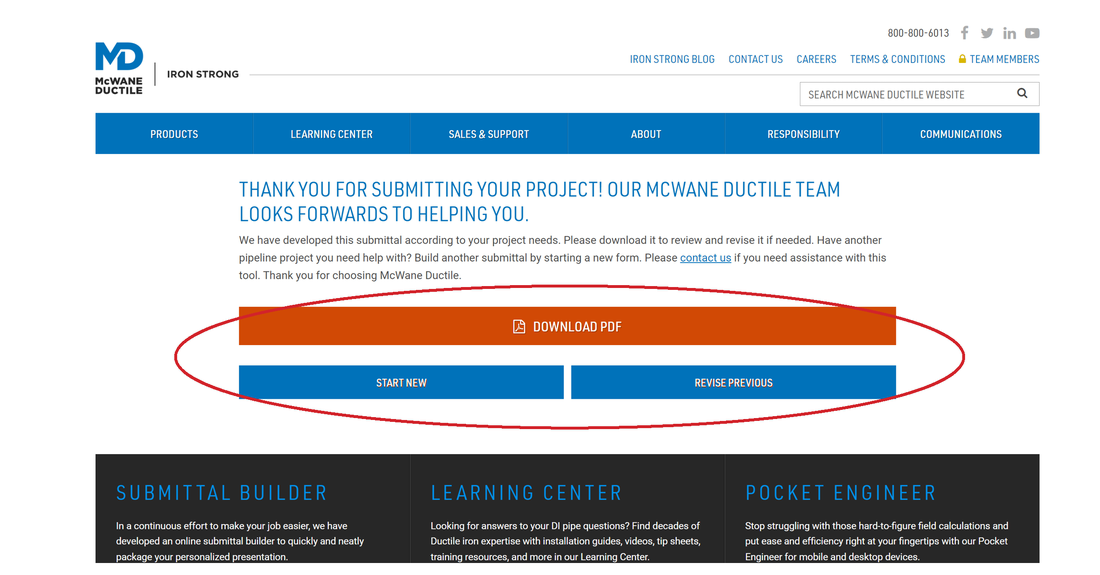 PLAN YOUR WORK AND WORK YOUR PLAN!
Providing a timely and complete package will help ensure your project is on the right path, which can eliminate costly delays related to a tardy or an insufficient submittal. In the essence of successful sales or construction operations, building a submittal package permits you to PLAN YOUR WORK AND WORK YOUR PLAN! It is truly that simple, yet made even easier and more accurate by using the McWane Ductile Submittal Builder for free!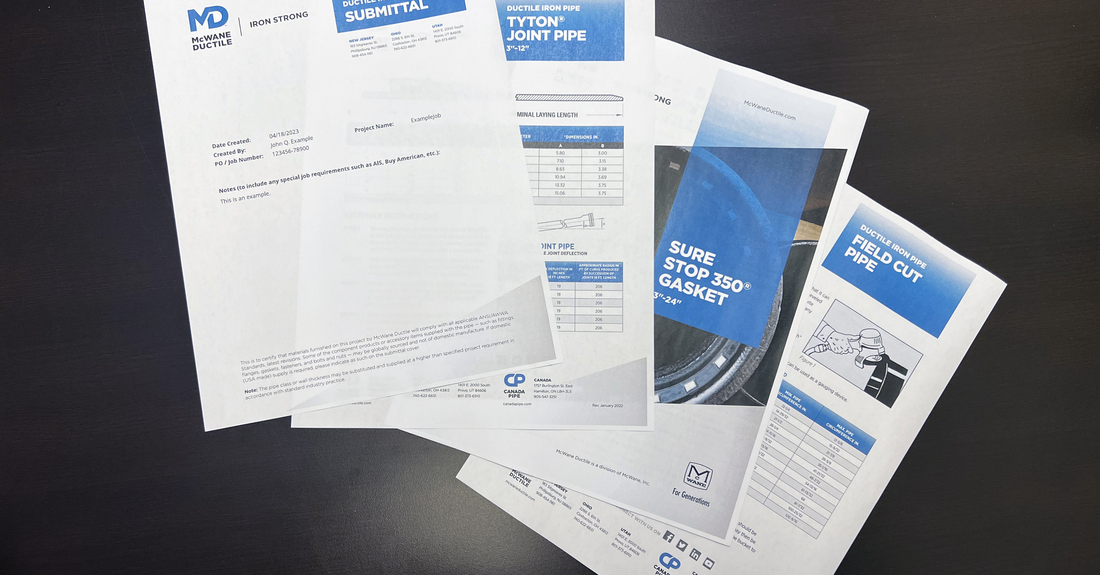 NEED ASSISTANCE BUILDING YOUR SUBMITTAL?
Contact your local McWane Ductile sales representative. Not sure who your local representative is? Click the following link and choose your state for a list of contacts: https://www.mcwaneductile.com/sales-support/sales-team/.
And be sure to check out all our digital offerings: