Good Question! Today's Iron Strong Blog answers it. At first glance, you might think longer lengths mean fewer joints, and that has got to be better. So why don't all manufacturers make longer pipe? This perceived advantage is really a myth and we will look at that in a minute. In fact, there are more Ductile iron pipe plants in North America that manufacture 18-foot length pipe either entirely or as a significant portion of their product mix. 
And don't get me started on the poly/welded steel pipe because, yes, those are joints, and yes, they can leak and separate if not appropriately assembled – it does happen. Besides, those joints often take longer to make up than it takes to dig the trench to lay the pipe! But let's first talk about why you would need or want longer or shorter lengths of pipe.
Factors to Consider During Pipeline Design
Rarely if ever, are pipelines designed around certain specific lengths of pipe, and pipes are manufactured in standard nominal lengths, so construction practices, job site field conditions, and other factors usually play a more significant role. Some factors that may affect the decision are noted below:  
Space Limitations: Some utilities like to standardize on specific lengths of pipe for inventory and handling purposes. Eighteen-foot length pipes of various sizes and joints require less yard space than 20-foot lengths. If a utility (or distributor or contractor for that matter) were to carry an inventory of only smaller sizes, say 4-inch through 16-inch, not including 14-inch, they would need as much as 24 feet more yard space for 20-foot lengths if they carried the most common three types of pipe joints. That may not seem much, but particularly in some urban settings, space is expensive, and expanding yard facilities is often tricky.
Unforeseen Conflicts: Pipelines are often long and straight, so longer pipes are better because they're faster to install. While this is often thought to be the case, actual field conditions are not so supportive of this myth. Even what appears to be a straight line on a drawing often has those pesky vertical changes required (we call them hills and utility crossings).
Trench Conditions: Furthermore, most experienced installers will admit that when laying quick, reliable, and easily assembled DI pipe push-on joints, the speed of installation by a well experienced pipe-laying crew is mostly limited by the speed of the trench excavation and backfilling operation, not the number of joints.
What is true is that pipelines are more often composed of many curves, particularly in residential areas. In 1947, residential community construction and development changed forever with the beginning of Levittown, NY. Levittown is most often credited with being the first residential planned community in North America. Its curved residential street design is carried on today throughout Canada and the United States.
Often, these curves can be accommodated by using 18-foot lengths, eliminating the need for costly fittings and associated installation costs. Not only must you pay for the extra fittings but also the additional joint restraints, labor, and lost time.
You can calculate the radius McWane Ductile 18-foot lengths can make by using the McWane Pocket Engineer: https://pe.mcwane.com/groups/ductile-iron-pipe/mcwane-ductile/calculators/radius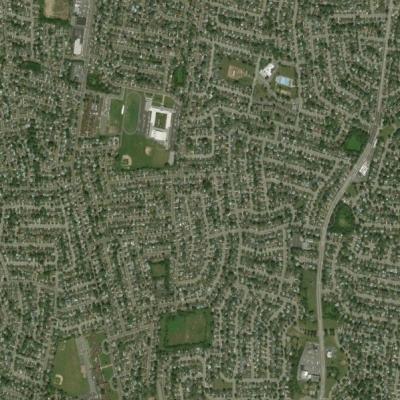 Fit It In There! Good Luck!
Shorter lengths are usually mostly preferred in urban situations. In fact, requests for shorter than 18-foot pipe are not unusual. Even though the old streets may be laid out straight in a grid-like fashion, urban environments are often congested underground with many other buried utilities making installing long pipe lengths difficult.
As can be seen, long lengths would be detrimental to deal with in these crowded urban situations, but even outside urban centers, the underground environment is getting more crowded.
Rural areas are not immune to the problem of existing utilities, either. There are often drainage issues in or along roads that pipelines must curve around or under. These rural scenarios are another area where 18-foot lengths can save utilities and installers time and money. In these cases, the reduction of eight joints, eight joint restraints, and the time and money to install all of that besides cutting pipe to fit can often be obtained using 18-foot pipe.
Tight Spaces, High Deflection, Safety: 18-Foot is Best
Another factor affecting pipe installation and the benefit of 18-foot length pipe is construction zone width limitations. Occasionally, pipeline installations are required along roads and streets that necessitate the maintenance of traffic flow. While the difference of 2 feet may not seem much, it could be significant in a situation with limited swing space. Standard road lane widths are 8 to 10 feet and shoulders, when present, narrower. Combined with equipment width and lane isolation requirements, traffic safety could dictate using shorter lengths versus undesirable and more expensive temporary traffic closures requiring flaggers, police details, and barriers.
Speaking of Safety, most pipe installations now require the use of trench shoring of some type. Often this shoring is accomplished via the use of trench boxes. An 18-foot length pipe doesn't require as long a box as 20-foot pipe. A smaller box is easier to move due to lighter weight, thereby speeding up installation while being less expensive to rent or buy, resulting in saving money while maintaining a safe installation environment. These safety and trench box issues are compounded on deep pipe installations.
Eighteen-foot length pipe is also better suited than longer lengths in wet trench installations. Often wet trench or high groundwater installations can be completed by running pumps instead of well-point systems. Still, longer trenches required for longer pipes may necessitate not only larger, more expensive, capacity pumps, but more of them. Moving the pumps and the extra cost of refueling and downtime during refueling may add additional costs not often considered.
Modern technology has also made 18-foot and even shorter length pipe more desirable. This is especially true in the arena of trenchless technologies, especially Horizontal Directional Drilling (HDD) installation. HDD installs have a curve-based profile by necessity. As previously discussed, 18-foot lengths, especially with high deflections available in some joints (up to 15), can accommodate a much tighter radius. This deflection capability could even make the difference between a doable project to a prohibitive project.
Check out McWane Ductile's Pocket Engineer to use for calculating pipe curve geometry in HDD installations.
In Summary
As these costs accumulate, the small margins installers work on can be eroded, making the project a losing proposition for an installer. No one wants that to happen as corner-cutting and disputes over extras arise due to poor product selection. Choosing the right product can make long term contributions to the installers as well as designers, and utilities. In some instances, a project might benefit from using even shorter than 18-foot lengths, so contact your local McWane Ductile Representative more information early in the design stages.
We have team members who have managed small and large water utility systems, served in engineering consulting firms, and bring decades of experience in solving field issues involving pipeline construction and operation. From design, to submittal, to installation, we strive to provide education and assistance to water professionals throughout the water and wastewater industry.
Check Out All Our Digital Offerings