Dear Ditch Doctor,
We recently installed a 15,000-ft 12-inch diameter Ductile iron pipeline with several 6-inch branches off two hydrants. The average depth of cover is 4 feet. The city engineer has expressed a concern that residual groundwater might have entered the pipeline during our installation activities.
This pipeline was not hydrotested after installation for various reasons but will be after winter. The concern is if there is residual water in the line and it freezes, will it affect the integrity of the pipe and cement lining? Will this crack or buckle the pipe? Do you foresee any other issues?
Thanks in advance for your input.
Sincerely,
Freezing in Fairbanks
Dear Freezing,
It truly depends on the amount of residual water that may have accumulated within the pipeline. in all my years in the waterworks world, the only time that I've seen internal water damage in Ductile iron pipe was on a bridge-crossing near Boston, Massachusetts, where they successfully pressure tested the pipe during an extended cold snap in February and left the pipe full after the test. In the belly of a bridge. Not insulated.
Water expands when it freezes, and there was no place for it to go, as the pipe was left entirely full of water. Amazingly, it did rip some pipe walls clean through at the weld beads (restrained joint piping) given that the weld area is more rigid than the Ductile iron itself. Easily explainable as to cause. It was not a pressure thing. It was a mechanical strength limits thing. And if anyone thinks ice cannot wreck iron … talk to the poor souls once upon the Titanic.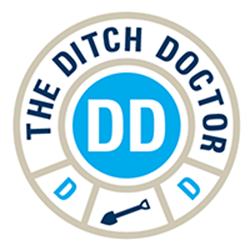 I highly doubt that any residual amount of water left in the long lengths of the pipeline you've described would consume all the available space within the pipeline, leaving no room for water to expand without harming the portions previously holding only air. It is highly likely, given the parameters you've provided, that any ice that forms will do so harmlessly only to melt back to water when the temperature rises. 
Summary in two words for your inquiry … NO WORRIES. Proper insulation on pipe where climates go near-freezing eliminates this concern. Consult with your design engineer for options.
And since you haven't performed a hydrostatic pressure test on that pipe yet, be sure to check out the #IronStrong video below for some helpful tips, along with another video that touches on electrical thawing and cable bonds for DI pipe.
Please have a safe and enjoyable winter up in Fairbanks.
Ditch Doctor