Why do you make Ductile iron pipe with no bell? Who would use such pipe? What is it used for? All good questions from most people in our industry, unless you are a pipe fabricator.
Many years ago, while walking the yard of one of my customers that fabricated flanged pipe, I noticed that his yard looked like a poorly cut cornfield with many pieces of 2-feet to 5-feet pipe standing on end.
The problem: leftover short cut pieces of pipe, all with bells attached. The same pipe is often left lying around on a job site after a project is complete. THE SOLUTION…NO BELL PIPE. At that time, we were not producing No Bell pipe, but it started very soon after.
No Bell pipe is manufactured in 3-inch through 12-inch and cast without the bell to make other types of pipe used throughout our industry. No Bell pipe is typically cast in Class 53 or higher, depending on the final product requirement. Ductile iron pipe barrels conform to the requirements of ANSI/AWWA C151/A21.51.
Basically, No Bell pipe has a flat unbeveled end on the spigot side and a small flange-like end on the bell side. Although the bell end appears to look like a flange, it does not have bolt holes and merely serves as part of the casting process.
The primary intent of a No Bell (also referred to as a Flag Head or Hydrant) is to maximize the useful length of pipe barrel. Reducing the waste of a tapered push type bell end — Good use of Envision practices! Only the very end on the bell side needs to be cut to remove the casting flange. This results in cost savings that would otherwise be lost due to short unusable cut pipe with bells.
No Bell pipe usually does not have a seal coating on the outside and may appear unfinished. This non-application of seal coat is because the pipe will be cut, threaded, or grooved to make the final product. The fabricator will then finish the exterior with the job-specific coating.
Types of Pipe Made from No Bell Pipe
No Bell pipe is primarily used by fabricators and manufacturers to produce several types of finished pipe products, including but not limited to:
Flanged Pipe
No Bell pipe is made in Class 53 or higher in order to meet AWWA C115/A21.15 for flanged pipe. Flanged pipe is used in many applications, including treatment plants and pumping stations. For water applications, No Bell for fabrication purposes is typically provided with double cement lining which is standard for fabricated pipe.
The exterior is typically bare because the pipe will be cut to size and threaded for the flanges. The final exterior coating can be a standard bituminous coating or any of a variety of primers, epoxies, or specialty coatings.
For sewer, sludge, other industrial applications, various interior linings such as Protecto 401® or glass linings would be applied by McWane Ductile after the fabrication is complete. For more information, see our Iron Strong Blog, How McWane Ductile Fabricates Pipe to Suit Your Plant Job? by my colleague Matt Drummond.
Grooved Pipe
No Bell pipe is cast with a minimum Class 53 for grooved pipe in accordance with ANSI/AWWA C-606. Grooved pipe is used for water, sewage, and other liquids, where specifiers prefer something different than flanged pipe. This pipe has grooved pipe ends, which are connected using segmented mechanical couplings and bolts. This pipe can be grooved on one end and have a different connection on the other end, such as flanged.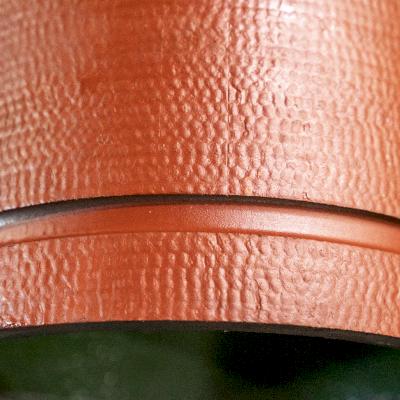 River Crossing Pipe
No Bell is usually cast in Class 55 or 56 for use as River Crossing pipe for the additional weight to help overcome buoyancy. For a great article describing an inventive way to complete a difficult river crossing, check out this blog, "Another River to Cross" by my colleague Ken Rickvalsky.
Long Span Pipe
No Bell pipe is typically cast in Class 54 for Long Span pipe production used for aerial crossings on elevated supports. Long Span pipe is made by joining multiple length pipe segments. As with the other types of pipe mentioned, Long Span pipe can be finished with various linings and coatings. To learn more, see our Iron Strong Blog, What is Long Span Pipe and How is it Installed? by my colleague Jeff Houser.
As you can see, this little-known type of pipe we call No Bell is just the beginning of several kinds of pipe that may be part of your project… you just did not know it. If you have any questions regarding No Bell or Fabricated Ductile iron pipe for your water or wastewater infrastructure project, please feel free to contact your local McWane Ductile Sales Representative.
We have team members who've managed small and large water utility systems, served in engineering consulting firms, and bring decades of experience in solving field issues involving pipeline construction and operation. From design to submittal, to installation, we strive to provide education and assistance to water professionals throughout the water and wastewater industry.
Check Out All Our Digital Offerings