Oxidation and rust are related, yet they are not equal nor interchangeable as words or concepts. Both are a form of corrosion, although varying by many degrees and measures. Quite simply, and although early in this article, here's the bottom line – oxidation results in and typically stalls at "surface discoloration," a largely cosmetic effect often referred to as patina. Rust results in a loss of metal mass. Keep reading this Iron Strong Blog for more details of the difference.
Photo: Metal is GONE. This is what true CORROSION looks like.
Oxygen is Corrosion's Kindling
It is often said that oxygen is the mother of all corrosion. In fact, corrosion is an electrochemical process fueled by a reaction with oxygen (i.e., a redox reaction), or in the simplest terms, corrosion is the deterioration of a material by its surrounding environment. If not controlled by various proven techniques, rust is an ongoing process that will eventually consume the material completely, or at least in significant functional loss of the material.
This is why people often say some things, typically susceptible metals in corrosive environments, have "rusted away"—for example – car bumpers and body panels in oceanside towns. A steady supply of salt (chlorides airborne from seawater) and damp air are to rust what flour and water are to a biscuit, necessary and powerful ingredients.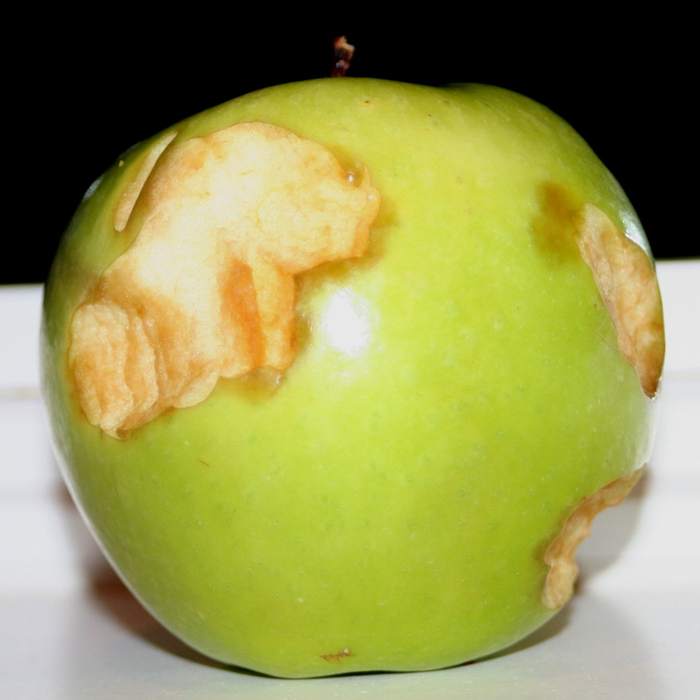 Photo: Remove the protective skin of an apple, and it will OXIDIZE.
Oxidation is Not Destructive
Oxidation is a wily yet simple and natural process. Its effects are felt on more than just metals. For instance, oxidation can change the color, smell, or taste of substances such as browning apples, spoiling meats, or souring milk. Oxidation can often produce energy, such as when it combines with food molecules in the human body or with fuel in a car engine.
When it comes to oxidation and metals, depending on the type of metal, such as copper and Ductile iron, the microscopically thin layer of oxides formed on their surfaces protects the metal substrate below and attached to it.
The simple fact is - oxidation is not rust. Rust is a destructive form of metal disintegration over time. Oxidation on these specific metals stagnates unless ambient conditions become more corrosive than the oxidation layer can resist.
The best example of this over time is the Statue of Liberty, located in the New York Harbor for almost 200 years. Her ⅛-inch thin original skin has not diminished over her considerable time in the harsh marine conditions due to the naturally occurring patina. While the green patina of copper offers a highly desired visual appeal, the same natural oxidation process upon a Ductile iron pipe's surface results in a varied shades-of-cinnamon splotchy appearance upon its entire surface.
This annealing oxide layer on Ductile iron pipe and fittings, much like the patina on copper, is so thin it's barely measurable yet serves to prevent deeper pitting or degradation of the metal in mild or passive ambient conditions.
The problem is, unlike copper, it's not attractive to the eye, and therefore, all Ductile iron pipes are coated with an NSF-61 certified asphaltic-based paint known as sealcoat. Water-based sealcoats are common today and are much friendlier to the environments of the foundry and the external world.
To say it most simply, asphaltic sealcoat on Ductile iron pipes and fittings is primarily a cosmetic application, inside and out, and it readily adheres to the annealing oxide layer of Ductile iron products, with no sand-blasting or other surface prep needed.
A 20th Century Magnificent Metal Improvement
Weathering steel, also referred to as Corten steel (COR-TEN), began experimentally in the United States in the 1910s, where steels were alloyed with varying amounts of copper to improve their resistance to the elements. While initially targeted as a superior steel suitable for building railroad hopper cars handling heavy loads in the rugged outdoors, US Steel eventually patented its development of this material in 1933, leading to a literal revolution of enhanced performance of structures worldwide, given its innate resistance to corrosion.
It oxidizes once, over a period of 6 months to a year (unless accelerated by surface treatments), to be as short as one hour for oxidation of the surface. Many highway structures beginning in the 1960s, especially bridges, were constructed of Corten steel, given this superior and nearly maintenance-free material aspect. No painting is necessary.
In September of 1971, US Steel opened its headquarters in Pittsburgh, PA, with a unique "demonstration" building to showcase the advent of weathering steel. The structural skeleton of the building was constructed on the exterior of the building's walls to show off the beauty and resilience of this metal. Today, it remains the tallest building in the history of Pittsburgh at 64 stories and is now home to the University of Pittsburgh Medical Center.
Many more recent buildings and structures have used Corten steel as their chief element for stability over time, such as the Barclays Center 18,000-seat arena in Brooklyn, NY, constructed of 12,000 pre-weathered steel panels. A marvel of engineering and construction, the New River Goerge Bridge in West Virginia was constructed with weathering steel. The oxide layer protection upon the underlying metal affords these structures a "no painting needed" freedom and a giant cost-saving convenience.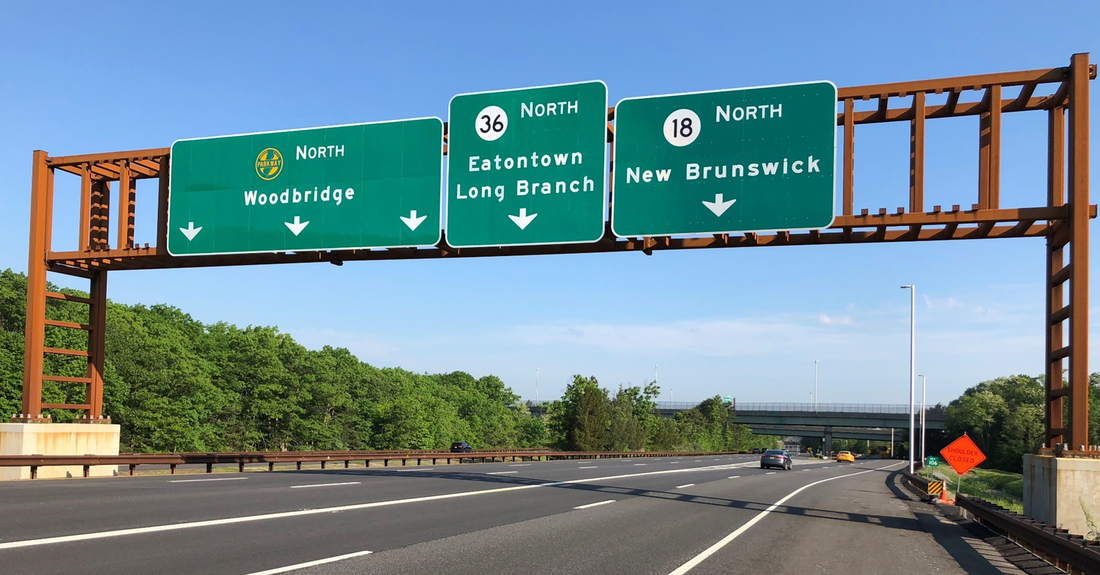 Most overhead highway sign structures throughout the US are constructed of Corten weathering steel.
Although a tremendous improvement over prior steels, weathering steels can be susceptible to certain humid subtropical environments or adversely affected by water accumulating for extended periods on its surfaces. As a result, considerations towards these few exceptions must be considered in selecting the material during designs, especially provisions for proper water drainage off the structures.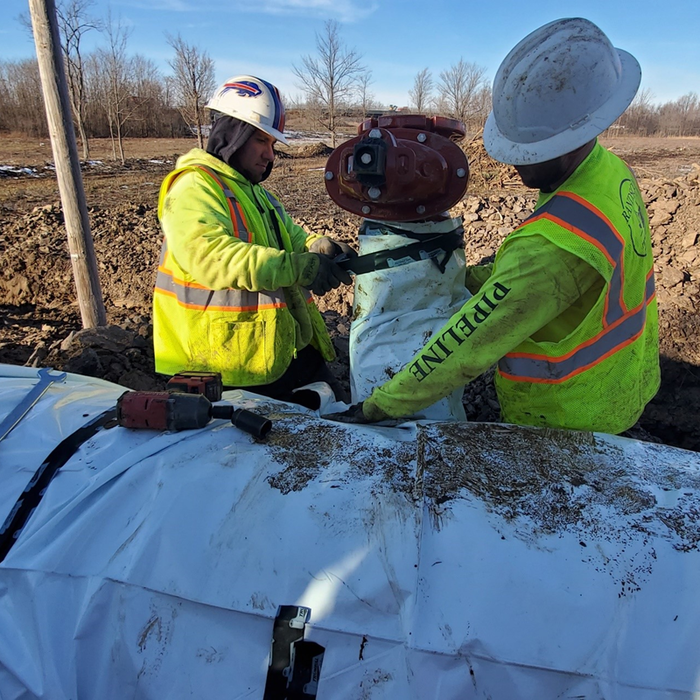 Photo: V-Bio polywrap is produced with embedded corrosion inhibitors within the film itself.
Ductile Doesn't Rust
Much like Corten steel, annealed Ductile iron pipe and fittings have an enhanced resistance to corrosion compared to other metals. Ductile iron will oxidize as a unique iron-carbon alloy but not corrode ("rust away") unless four very specific variables are ALL present together over time. These are:
An anode
A cathode
A return current path (which can be the pipe itself)
An electrolyte (a medium containing ions)
Absent any one of these four…no corrosion occurs. Yet even in an environment containing all four variables, simple and cost-effective encasement in proven polyethylene film, such as V-Bio® Enhanced Polyethylene Encasement, eliminates the connection between pipe and soil, breaking the corrosion circuit. Polywrap it and relax for more than 100 years, no worries.
Summary
Ductile iron pipe is not like a sugar cube in water. It will NOT degrade simply because you bury it. That is a myth that hopefully this article has helped to assuage. If you disagree with something in this blog or feel we need to include something, we would love to hear from you via email or phone. You have the questions; we have the answers. Contact your local McWane Ductile representative, check us out on social media, or check out the Ditch Doctor section of our Iron Strong Insights Quarterly Magazine for more intriguing Q&A!
Check Out All Our Digital Offerings