BWRPWA had a water leak in a 36-inch main that serviced a significant portion of northwest Arkansas. The leak was due to an unrestrained joint being blown out. BWRPWA contacted Seven Valleys Concrete to fix their leak, who then reached out to our partners at Northwest Arkansas Winwater to help them arrange for the materials they needed to get BWRPWA back up and running.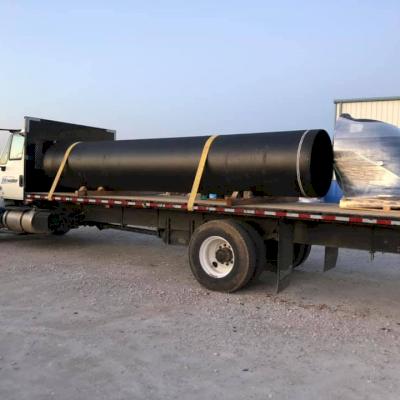 That was when Northwest Arkansas Winwater and McWane Ductile went to work. Winwater called McWane Ductile on Monday to find out the availability of Gauged Full-Length 36-inch, Tyton Joint®, Class 200 Ductile iron pipe that Seven Valleys could use to make the repair. McWane Ductile had the pipe on the ground at the Coshocton, Ohio foundry but needed to find a carrier who could get the pipe to them as safely and quickly as possible. 
With the help of McWane Truck Brokerage, the foundry lined up a carrier that got the pipe to Northwest Arkansas Winwater on Wednesday.
With all the material on site, Seven Valleys was able to go to work fixing BWRPWA's issue that Thursday, April 30. Some of the obstacles that made this repair project even more challenging for all involved were:
Uncovering and cutting out a 36-inch Mechanical Joint Cross
Hammering vast amounts of concrete thrust blocks
Adding long sleeves that Winwater purchased from our sister company Tyler Union
Sleeving the line back into service
By the end of the day on Friday, May 1, BWRPWA had their new pipeline repaired, pressure tested, and flowing again to their many consumers. Large, major scale pipeline projects are great, but helping to fix a utility's issue like this is what we are in business to do and why pipe manufacturers are considered essential to the safety and continuation of our nation's waterworks infrastructure.
Thank you to Northwest Arkansas Winwater (Stephen, Joey, and the rest of your team) for trusting us with your Ductile iron pipe needs. Thanks to Seven Valleys Concrete and Benton Washington Regional Public Water Authority for allowing Northwest Arkansas Winwater and McWane Ductile to assist with this repair project.
Need Assistance with Your Waterworks Project?
Do you have questions regarding pipeline repairs using Ductile iron pipe? Be sure to reach out to your local McWane Ductile representative. We have team members who've managed small and large water utility systems, served in engineering consulting firms, and bring decades of experience in solving field issues involving pipeline construction and operation. From design to submittal, to installation, we strive to provide education and assistance to water professionals throughout the water and wastewater industry.
Check Out All Our Digital Offerings