So, the site plans say, "…connect to existing iron pipe." Now that we've dug down to it, I can't tell if it is gray iron or Ductile iron pipe. Are there ways to reliably distinguish between the two without some physical testing on a sample? In this blog, we'll take a closer look at the characteristics and differences between the two types of pipe.
A Little Background About Cast Iron Pipe
Regarding iron pipe, the word "cast" is most appropriately used as a verb, as in the act of making pipe itself. All iron pipes are cast. The earliest were cast in a formed sand pit, while modern iron pipes are cast in a centrifugal casting machine. Graphite, a critical component of iron pipes, evolved from its flaky composition in gray iron to the nodular graphite now within the ferritic structure of Ductile iron pipe. This nodular graphite is the key to the resilient flexibility of Ductile iron pipe.
Another major difference in the properties of these two iron alloys is that Ductile iron results from a much higher level of heat-treatment (annealing) to set its lasting metal chemistry and its superior strength, well beyond anything ever achieved by gray iron. An evolutionary timeline from gray to Ductile iron pipe is worth a look:
From the 1600s to about 1920 – Gray iron pipes were "pit-cast," typically in sand molds.
The early 1920s - The centrifugal casting process of water-cooled molds spinning within a machine to create a pipe wall emerges in earnest.
1920's to Mid-1950s – The centrifugal casting of gray iron pipe dominates the industry—Pit-casting of iron pipes as a commercial model phased out in the late 1940s.
The mid-1950s – Arrival of the rubber gasket as the primary sealing mechanism for watertight joints in iron pipe. To this day, the most significant advancement in pipeline joints in the history of utility piping.
The mid-1950s to mid-1960s – Innovative Ductile iron pipe is introduced and begins to appear sporadically. At this point, it might be considered an "experimental innovation."
The late 1960s to early 1970s – A confusing time for the iron pipe industry as both gray iron and Ductile iron were often produced by the same foundries in the same machines, sometimes on the same days. This was the time that the textured peen pattern was introduced in the spinning molds to utilize inoculant dust essential to the manufacturing of modern Ductile iron pipes.
The late-1970s – What was originally considered an experimental innovation, Ductile iron becomes the preferred pipe material, virtually eliminating gray iron from active production.
From the early 1980s to the present – Gray iron pressure pipe is no longer available as a stock item.
NOTE: Gray cast iron soil pipe, generally used for gravity drainage of sanitary wastewater or other fluids from buildings, including the tallest skyscrapers, remains available and widely used around the world.
Clues and Cues
Now that we've completed the IRON HISTORY lesson, let's list some of the visual Cues and Clues that might allow you to "spot the difference" in such situations:
PEEN – All pit-cast and most centrifugally cast iron pipe had an intended smooth surface on the barrel exterior. All Ductile iron pipe has the distinctive presence of a textured surface, known as the peen pattern. This pattern is a raised and specific pebble-grain pattern on the barrel exterior. NOTE: Since gray iron and Ductile iron fittings are not centrifugally cast, they do NOT have an exterior peen pattern.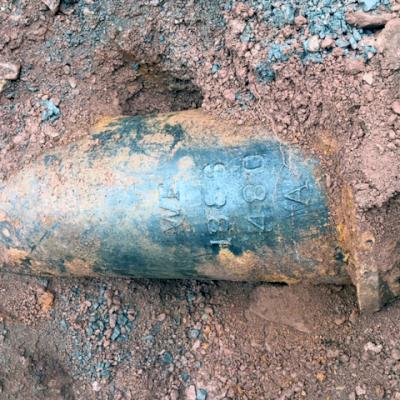 OUTSIDE DIAMETER – pit-cast gray iron pipe had varying outside diameters (OD), even along the same piece of pipe. Pit and early centrifugal-cast gray iron pipe often had shallow yet noticeable voids and other surface irregularities resulting from the nature of the manufacturing process at the time. Now, Ductile iron has one nominal outside diameter per size, which is consistent with other modern alternate materials. Why is it important to know the inside and outside diameter of your pipe? Find out in this Iron Strong Blog by my colleague, Dustin Henderson.
MARKINGS – embossed or raised markings such as the maker's name on a pipe's exterior barrel are a clear indicator that the pipe is pit-cast gray iron. Painted stenciling of product information on the barrel was common on late-term gray iron and Ductile iron pipe until the early 2000s. Modern DI producers now utilize production stickers on each pipe for product information and quality verification.
STRUCTURE – gray iron pipe typically had a box-like hub/joint connection rather than the airstream-style contoured bell of modern Ductile iron pipe.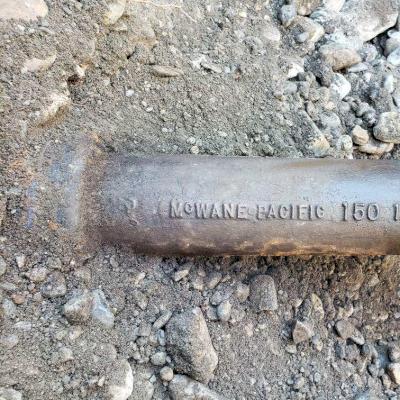 JOINTING – if there are visible packing materials in the joint, such as oakum, a tarred heavy fiber twine used to finalize the seal of the joint, it is gray-iron pipe. Ductile iron uses modern rubber gaskets to provide a lasting watertight seal for water or sewer systems.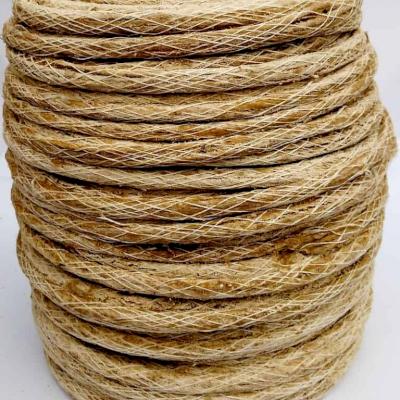 AGE – based on installation date - before 1965, it's likely gray iron. From 1975 and later, it's Ductile iron. For the decade of 1965-75, other clues are needed to reliably determine which material it is.
THE RING-A-DING DING – Some very experienced field veterans claim there is an audible difference in sound or pitch between the two materials when struck carefully with a metal hammer; with gray iron sounding more "ting-like" in response due to the lack of the softer annealing oxide layer present on every Ductile iron pipe. This is much like biting down on a coin in the Old West to ensure it indeed was silver! However, this method is generally unreliable on even a partially buried pipe as the soils around the pipe typically muffle any discernable sound difference.
A Little Bit About Pipe Classes Through the Years
It's been said that the only certainty in life is change, and certainly, iron pipe wall classes are no stranger to this truth, as seen in the listing below:
From the 1800s to the 1920s – Designated pipe wall thickness classes of pit-cast gray iron pipes were largely restricted to A, B, C, or D. The further along in the alphabet, the thicker the wall.
1908 to 1952 – Standardized pit and centrifugally-cast thickness classes for gray iron pipe expanded to contain A - H, where again a Class F pipe would be significantly thicker than an A or B for a given nominal size pipe.
1939 to 1967 – Standardized thickness classes for iron pipe became a number-driven ranking from Class 1 to 8 for most diameters and up to Class 11 for others. The higher the number, the thicker the pipe wall for any given diameter.
1953 to 1982 – Standardized thickness classes specifically for gray iron pipes centrifugally cast in metal molds emerge with numbered designations from 21 to 28 across the available diameter range of 3-inch to 42-inch pipes.
1965 – Ductile iron pipe is officially introduced in the marketplace with standardized thickness classes 1 through 6 being available.
1976 – As more resilient walls of Ductile iron pipe became a true option, where a Class "0" became a potential thickness designation, a "5" was added in front to avoid impressions it might suggest to end-users. This resulted in the common core thickness classes of 50 through 56 Ductile iron pipes, now referred to as "special thickness classes."
1991 – Pressure class wall thicknesses for Ductile iron pipe were introduced to the marketplace to enhance the efficiency of design options and provide stronger competition against substitute materials. The tremendous strength of Ductile iron allowed this transition, with the class of the pipe denoting its working pressure rating. This strength handles internal pressures capably, while also supporting external loads. There is some overlap between pressure classes and thickness classes, especially in larger diameter pipes.
A Proud and Hearty Invitation
In doing the research for this article, it became apparent that while we know of countless older gray pipelines still in good service across the country, we have relatively few pictures of them or parts thereof that have been exhumed for any number of reasons. As sort of a "rolling republication" of this article, we hereby invite anyone and everyone to send us any picture of gray iron pipe you have in your archives. We will proudly post them! Help us advance the lasting truth of time-proven iron pipe! 
With these Pro Tips, you should be better able to distinguish between cast iron pipe and Ductile iron pipe more readily in the field. Did we miss anything? If you know of any additional tricks or ways to non-destructively differentiate between the two, please let us know. Your Pictures and Pro Tips can be emailed to Marketing@McWaneDuctile.com.
Need Assistance with Your Waterworks Project?
If you have any questions regarding your water or wastewater infrastructure project, be sure to reach out to your local McWane Ductile representative. We have team members who've managed small and large water utility systems, served in engineering consulting firms, and bring decades of experience in solving field issues involving pipeline construction and operation. From design to submittal, to installation, we strive to provide education and assistance to water professionals throughout the water and wastewater industry.
Check Out All Our Digital Offerings