Have you ever been asked what lining or coating your Ductile iron pipe material needs to have? Does all pipe in a water or sewer application system need some protective measure to keep the service life of the pipe constant? Ductile iron has been a reliable material for transporting water and wastewater nationwide for many years. Many variations of linings and coating have developed over time, but ceramic-enhanced epoxy and/or (porcelain enamel) glass linings have become the typically specified options for specialized applications. This #IronStrong Blog compares these two protective lining options.
Standard issue Ductile iron pipe and fittings are manufactured with a cosmetic application of NSF-61 certified sealcoat, black asphaltic paint on their exterior surfaces, and a thin Portland cement lining inside. The freshly placed cement lining is also typically sealcoated during the initial curing process. For more than 100 years now, the primary purpose of the cement lining in water systems has been to eliminate the potential of tuberculation inside DI pipes and fittings. The cement lining serves no actual purpose in sanitary sewer lines utilizing DI pipes.
For most Ductile iron pipeline installations, this default coating and lining combo is more than satisfactory for long-term service. When unusual or aggressive service conditions arise, such as where the acidity of pipeline contents falls below a pH value of 4.5, or temperature and abrasion properties of the fluids involved become a concern, this is where specialized linings such as ceramic enhanced epoxy and/or (porcelain enamel) glass linings can fit the bill.
Lining and Coatings: Differentiated - Inside or Out
Linings - A lining refers to what resides on the interior surface of pipes and fittings. Linings are designed to protect the inner surface of the pipeline from transported contents, whether they be inert, aggressive, or abrasive.
Coatings – A pipe coating refers to what resides on the exterior surface of pipes and fittings. Coatings are designed to protect against various external factors, including certain soil conditions or the potential adverse effects of stray currents in the ground or along the pipeline. The word coating is used when the material comprising it is bonded to the pipe, such as paint or epoxy. Encasement is the word used when the protective barrier surrounds the pipe but is not affixed to it, such as with AWWA C105 conformant polywrap.
Ceramic-enhanced epoxy is generally defined as an amine-cured novolac epoxy with at least 20% by volume being ceramic quartz pigment. Two leading characteristics of these ceramic epoxies include little to no permeability and minimal abrasion loss through the same extended number of service cycles that readily consume other lining materials. Surface preparation before applying ceramic epoxies to a substrate is crucial to lasting performance. For some epoxies, this prep is a simple "brush blast" to remove surface debris or loose material, while others demand a "clean white blast" to thoroughly remove the annealing oxide layer on DI pipe or fittings. Check with and follow recommendations from the epoxy manufacturer that you select for detailed guidance.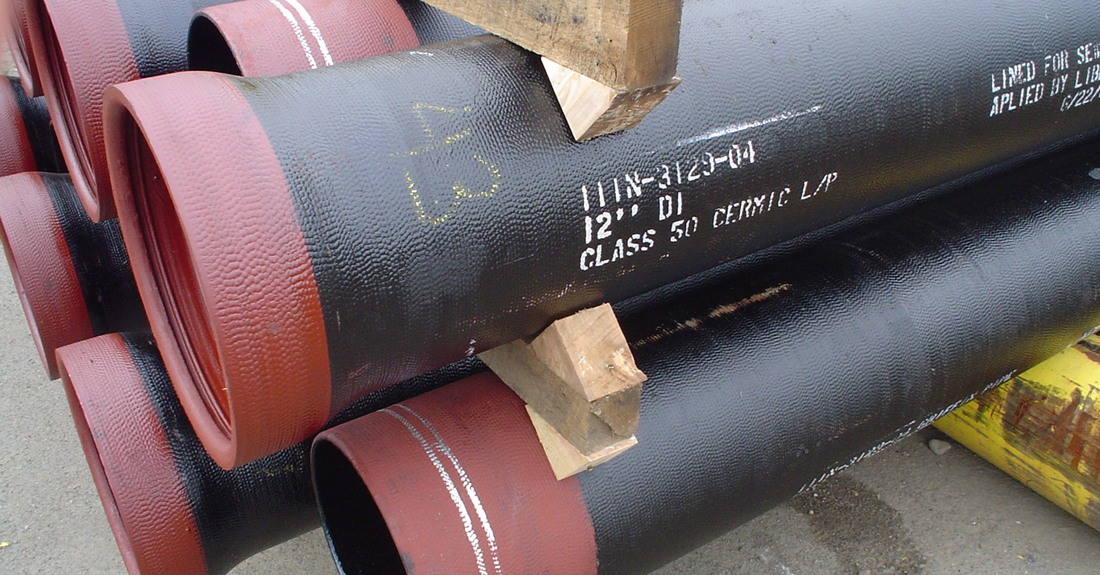 Amine cured novolac epoxy with ceramic quartz pigment. The crimson-colored bell and spigot (joint) protection is a thinner tinted application of the same ceramic epoxy.
A few advantages of a ceramic-enhanced epoxy lining include:
Developed and formulated to protect metal substrates against corrosive, abrasive, or chemical transport streams. The microscopic ceramic particles reinforce the epoxy as applied in many ways, including minimizing air pockets in the finished epoxy film.
Superior abrasion resistance compared to alternate lining options, including super-enhanced calcium aluminate cements and the like.
When properly applied to Ductile iron and other metallic surfaces, the excellent adhesion properties and dry film strength provide a solid and lasting chemical bond. The material does not disband or delaminate if properly applied.
If desired, easily builds considerable dry film thicknesses through a series of separate 5-mil applications. Most specifications call for a 40-mil dry film thickness in pipes and fittings.
Thousands of miles of pipe installed, 45+ years in service across the industry and the globe.
Available from several proven and reliable domestic epoxy manufacturers in the United States.
Some versions of ceramic-enhanced epoxies are certified and suitable for NSF-61 potable water or similar required applications; however, most are not. Check with your selected epoxy manufacturer for options available.
Additional versions can also be used as exterior protective coatings for Ductile iron pipe and similar materials for a wide range of buried and/or marine environment installations.
Perhaps the only restriction to the standardized use of ceramic-enhanced epoxies is the top temperature limit in continual service of 120° to 130°F, depending upon which manufacturer's product you select. Higher temperature applications, such as sewage sludge lines or other process-type pipelines, often employ glass linings.
Glass Lining (Porcelain Enamel) Composition and Application
Glass lining is also known as porcelain enamel in the Ductile iron pipe industry. Porcelain enamel has been applied as a lining inside Ductile iron pipes for years and boasts a long, successful history across various installations and applications. Optimal glass-lined DI pipe applications include potable water systems, raw water intakes or systems, chemical plants, wastewater treatment plants, and specialized design requirement projects.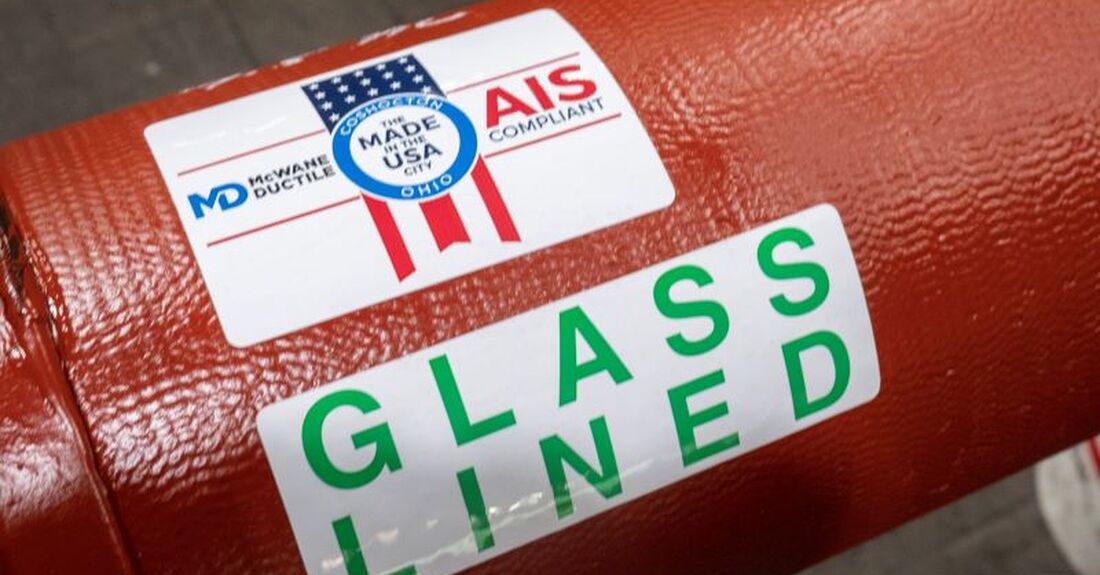 McWane Ductile provides glass-lined DI pipe in green or blue, depending on plant location.
Some of the other advantages of glass lining porcelain enamel include:
Exceptional corrosion and abrasion resistance between a pH of 3.0 and 10.0, even at elevated temperatures.
Suitable for high-temperature environments, up to 300°F or slightly higher. Appropriate high-temperature gaskets would be needed in the joints of such pipelines.
Thin, dry film thickness (typically 10-mils total) provides a smooth and clean interior flow surface, minimizing friction while improving pumping costs using cement or other linings in comparative diameters.
Highly resistant to a wide range of chemicals
With proper minimal maintenance, glass-lined Ductile iron pipe systems offer long service lives, often exceeding 50 years.
The surface of the metal substrate to receive a glass lining must be properly prepared in strict accordance with pertinent or specified SSPC (The Society for Protective Coatings) regulations. Applying these porcelain enamel linings typically requires the metal substrate to be significantly heated (often upwards of 1,000°F) to mature and adequately adhere the lining to the substrate. Check with and follow recommendations from the epoxy manufacturer that you select for detailed guidance.
ABRASION RESISTANCE COMPARISON - CERAMIC EPOXY VS. GLASS-LINED DI PIPE RELATED TO SEWER SERVICE


TEST (1)
CERAMIC EPOXY
GLASS
EN 598 Sliding Abrasion
0.0 Measured loss after 100,000 cycles
0.0 Measured loss after 100,000 cycles
TEST (2)
CERAMIC EPOXY
GLASS

U.S. Army Corps of Engineers CRD-C 63-80 - 1", 3/4", and 1/2" steel grinding balls swirled with 1,200 rpm agitation for 72 hours

0.51% Abrasion Erosion Loss
0.00% Abrasion Erosion Loss
TEST (3)
CERAMIC EPOXY
GLASS

ASTM D4060-90 - Standard test method for ABrasion Resistance 1,000 cycles, 1,000-gram load, H-22 Wheels

11 mils depth of wear
16 mils depth of wear

NOTE: Test data produced and published by Griffin Pipe Products.

(1) EN 598 tested on production run Ductile iron pipe. Test designed for resistance of sliding abrasion in sewerage pipe.

(2) CRD-C 68-30 test used to determine abrasion resistance of construction materials (i.e., bridges, etc.)

(3) Tabor Abrasion using H-22 Calibrase wheels (very aggressive)
Ductile Iron Lining Repairs for Ceramic-Enhanced Epoxy and Porcelain Enamel
No matter how good the design is and how seamless the installation turns out, any installed pipe system with a lining may need some repair before the system is put into service. Even the most careful contractors may need to touch up and repair the lining of the Ductile iron that may get damaged through the delivery, transport, and installation of the material from time to time. Below are other #IronStrong Blogs describing how to properly repair the ceramic-enhanced epoxy applied material and the porcelain enamel glass-lined system. These blogs also provide helpful downloadable repair Tip Sheets. Be sure to check out the videos.
How to Repair Protecto™ 401 Lining in the Field
Conclusion
Whether your project calls for a porcelain enamel or a ceramic epoxy-lined Ductile iron solution, you should now be able to distinguish the difference between these options properly. The choice between these options described above should consider all factors influencing the project and what is being transported within the Ductile iron pipeline needed.
Please contact your McWane Ductile Sales Representative with questions or design concerns over Ceramic-Enhanced Epoxy ceramic epoxy or glass-lined porcelain enamel Ductile iron. We have team members who've managed small and large water utility systems, served in engineering consulting firms, and bring decades of experience in solving field issues involving pipeline construction and operation. From design to submittal to installation, we strive to educate and assist water professionals throughout the water and wastewater industry.
Check Out All Our Digital Offerings
References
Induron. "Induron Protective Coatings, Technical Data Bulletin," (2023): 07-09.
Protecto401.com, Accessed September 1, 2023.
McWane Ductile.com, Iron Strong Blogs. Accessed September 1, 2023.