Material comparisons, in whatever format presented, are a common and useful tool for evaluating the advantages and disadvantages of one product versus another. These evaluations can assist engineers and specifiers with selecting the proper material, yet must contain relevant and factual details so as not to be vague or misleading. Otherwise, they are no more than bad marketing literature. Such is the case with a recent publication from a plastic pipe manufacturer and their most recent comparison of PVC pipe to Ductile iron pipe (DI pipe)1. In this #IronStrong Blog, we pointedly call out several erroneous claims by "writing the wrongs" contained in the published chart below.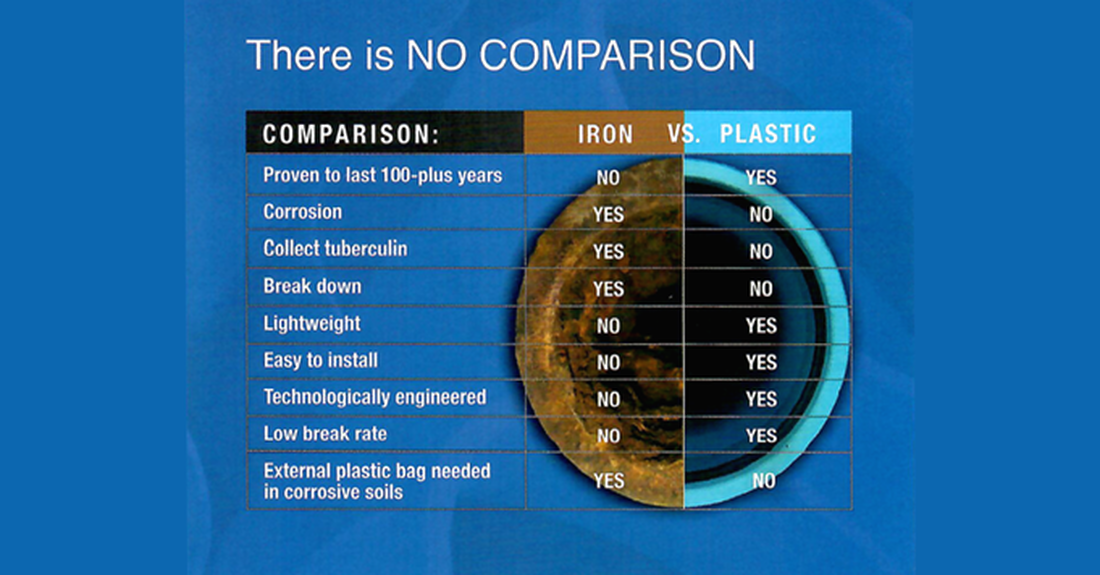 Summary graphic included in a 2022 PVC company brochure entitled "The Choice is Clear, Iron vs. Plastic."
PVC: PROVEN TO LAST 100-PLUS YEARS | WRONG
Iron pipe has lived it, even in poor soil conditions according to the Ductile Iron Pipe Research Association's (DIPRA) Design Decision Model (DDM)2. PVC extrapolates their math toward this desire. Century- or longer-lasting iron pipe installations date back more than 300 years, with a historically noted pipeline feeding the Fountains of Versailles in France beginning in the late 1600s. Simply Google "DIPRA Century Club" for confirmation and a listing of the utility members. There is no recorded installation of PVC or similar resin-based pipeline anywhere near 100 years in service. More like 70 years, at most.
DI PIPE: ALWAYS CORRODES | WRONG
Corrosion comes in many forms and levels, internal and external. Metal structures, including Ductile iron pipe and fittings, do not corrode simply because they are buried. There must be a specific and complete set of four factors for corrosion to occur. These factors are an anode, a cathode, a metallic path between them, and an electrolyte. Absent any one of these, only harmless surface oxidation would occur.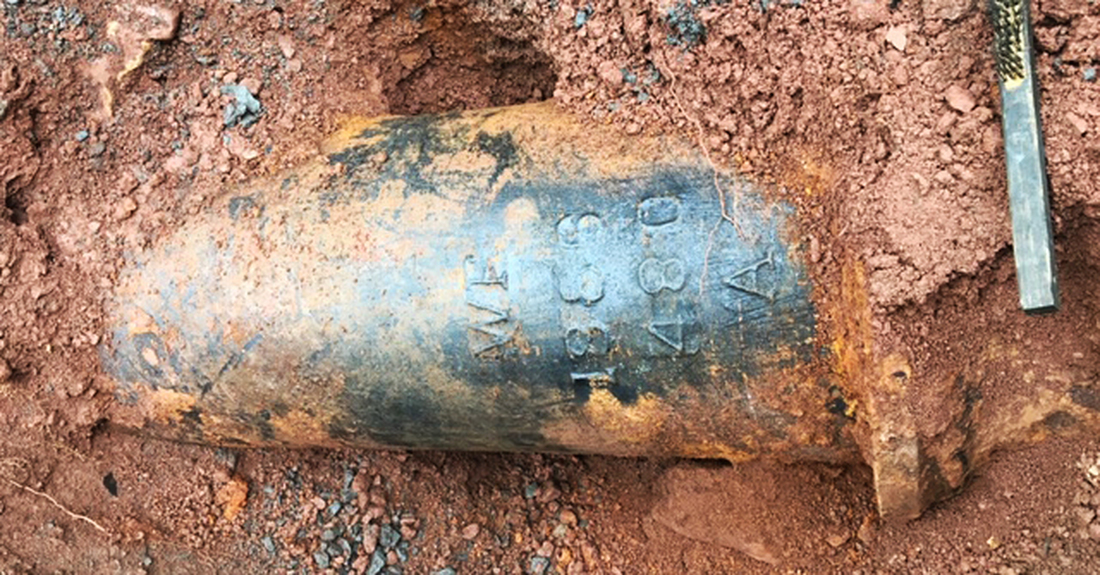 Contractors in the northeastern U.S. recently unearthed intact, fully-functioning iron pipe dating back to 1886.
DI PIPE: COLLECTS TUBERCULIN | WRONG
Simple and proven since 1922, a cement mortar lining inside your cast or Ductile iron pipe absolutely prevents tuberculation regardless of water chemistry. This continued promulgation of 'iron pipes collect tuberculate' is simply nonsense and misleading, at the least. In fact, a well-documented flow test performed in 2019 by DIPRA in Charleston, South Carolina3, on a cement-lined CI pipeline installed in 1922 found zero reduction in the flow characteristics; retaining and performing to a Hazen-Williams C value of 140, as originally specified for this product. Flow rates in gallons per minute also clearly demonstrated no constrictions of any measure within the pipeline.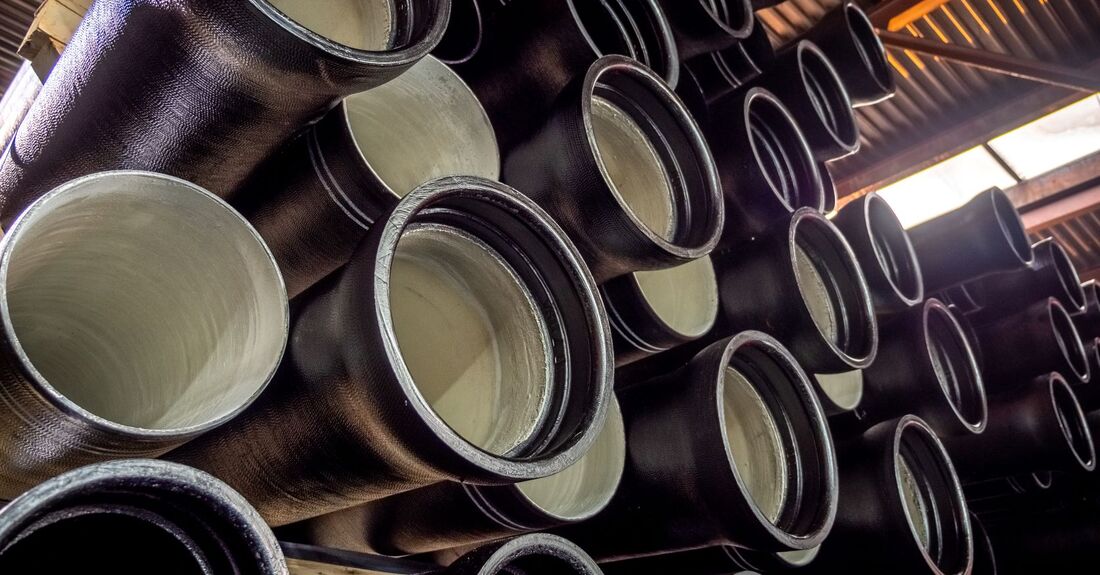 Cement mortar linings, with or without sealcoat, prevent tuberculation regardless of water chemistry.
DI PIPE: BREAKS DOWN | WRONG
Although the brochure and chart in question offer no detail as to what "breaks down," Ductile iron pipe has never demonstrated a tendency, in any way, to falter upon or by itself. PVC needs to be shielded from the sun (tarped when stored outdoors) to avoid its resin-based structure becoming faded and brittle. That itself is the definition of "breaking down." And PVC is susceptible to degradation or infiltration from a wide variety of hazardous solutions, cleansing agents, or petrochemicals (hydrocarbons); where, in the same conditions Ductile iron is relatively impermeable, even at high external pressures (>400-psi external) and even in worst-cause pollutant scenarios where specialized gasket elastomers can be used.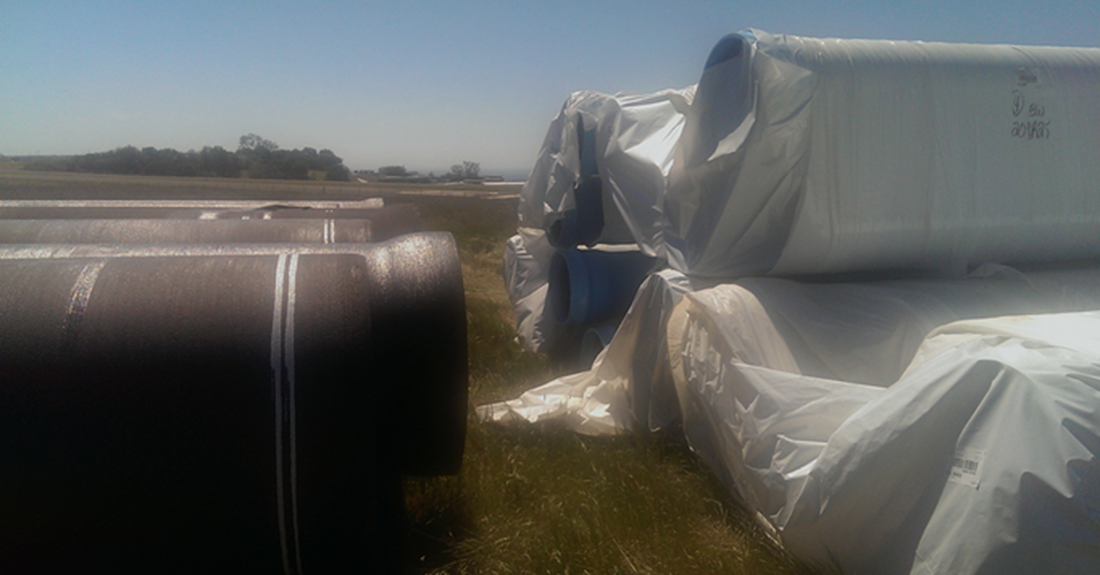 PVC protected with factory-applied wrapping in Sacramento, California circa 2014. DI pipe, no sweat, no concerns.
PVC: LIGHTWEIGHT MAKES A DIFFERENCE | WRONG
This is simply a false and misleading statement. In fact, for 24-inch nominal pipe, when compared to 18-foot lengths, the first available class of PVC rated for 300-psi (DR 14) weighs MORE than a pressure-superior DI pipe in that diameter. An 18-foot length of PVC DR 14 would weigh in at 1,770 lbs. DI PC200 weighs 1,709 lbs., standard cement lining included. Real-life experience has shown that the size and equipment utilized on a pipeline installation site are governed more by the trenching and earth-moving requirements of that job, not the pipe weight or material.
DI PIPE: DIFFICULT TO INSTALL | WRONG
Ductile iron pipe is no more complicated nor easier to install than PVC. In fact, on job sites where for whatever reasons, both pipe materials are used, pipe crews often bury far more DI in a day's production than PVC due to stricter trench backfill and compaction requirements for PVC. Ductile iron can serve in far weaker trench conditions than PVC at equivalent depths and loading – plain, simple, and proven through decades.
DI PIPE: NOT TECHNICALLY ENGINEERED | WRONG
Ductile iron is a highly engineered material developed through research into stronger castable versions during World War II. Today, the chemistry of the iron, from raw materials selection and alloying processes, is tightly controlled, as is the annealing process in the foundry during manufacture to achieve the physical strength and ductility that provides the long life and versatility of Ductile iron pipe.
DI PIPE: HAS A HIGHER BREAK RATE | WRONG
Most breaks in cast iron pipe occur in portions that are 100 years or more in age and exposed to loads never considered or designed for. Furthermore, the generalized classifications, categories, and/or assigned causes by which pipeline breaks are typically recorded or presented often skew perceptions that are not reality-based. As for a certain kind of break typical with PVC, such will never happen when using and assembling Ductile iron pipe … i.e., over-insertion.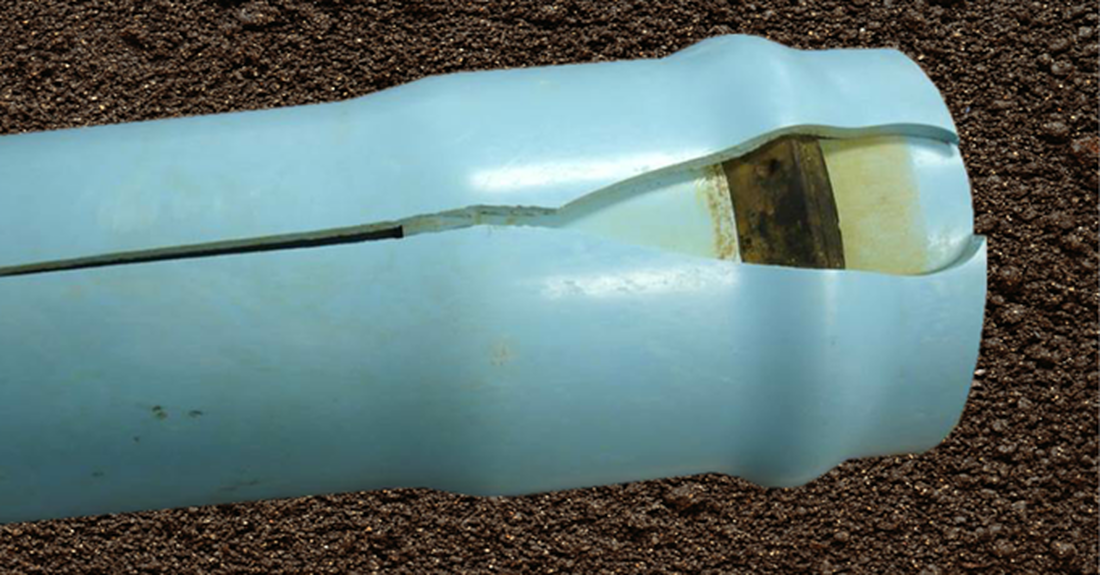 Typical splitting of PVC pipe bell from over-insertion of PVC spigot end during joint assembly.
DI PIPE: PLASTIC BAG NEEDED IN CORROSIVE SOILS | CORRECT
The PVC-claims chart on page 4 finally stated something that can be accurate in certain conditions. And while most native soils are not corrosive, soils of concern are easily identified via DDM protocols and readily mitigated through the economical use of standard or V-Bio® Enhanced Polyethylene Encasement, which in truth, has no actual effect on the production rates of pipe-laying crews. Across the country, the DI pipe industry, through DIPRA, has researched and continually updated progress on such easy-to-use encasements since the 1950s, with excellent results found throughout all times involved.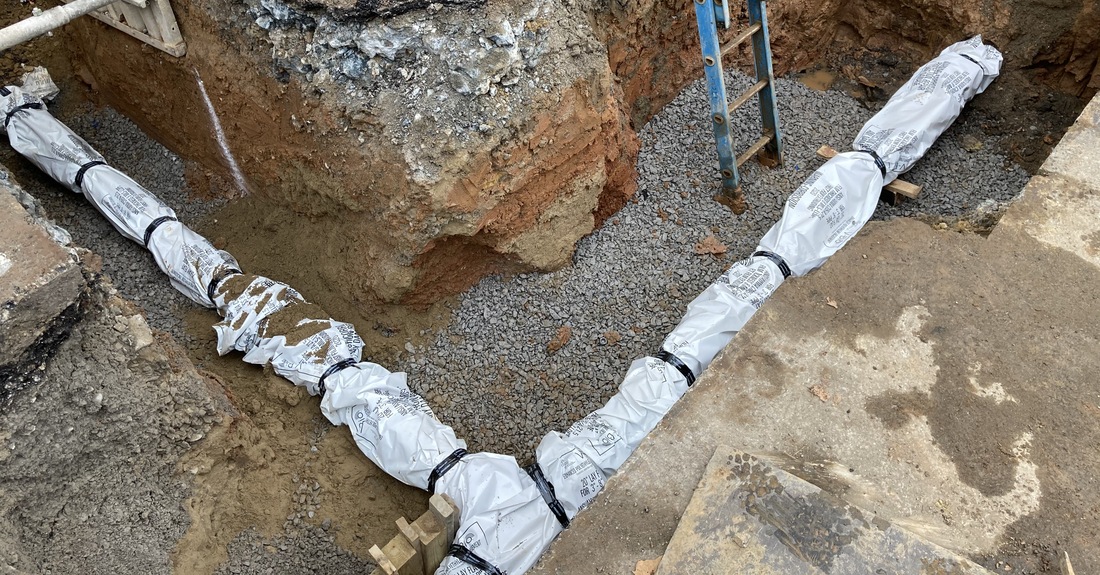 DI pipe and fittings easily and reliably protected in corrosive environments with V-Bio encasement.
SUMMARY
It is always important, helpful, and more truthful to all parties and products to base publications on real-world experiences through the ages instead of mathematical data extensions or hopeful histories to come. Every pipeline product has its own set of properties or advantages, yet the choice of which to use must be aligned appropriately to the conditions in which it will serve. Nothing is 'the best fit' everywhere. Follow that proven premise, and you cannot go wrong.
Need Assistance with Your Waterworks Project?
If you have any questions regarding your water or wastewater infrastructure project, be sure to reach out to your local McWane Ductile representative. We have team members who've managed small and large water utility systems, served in engineering consulting firms, and bring decades of experience in solving field issues involving pipeline construction and operation. From design to submittal, to installation, we strive to provide education and assistance to water professionals throughout the water and wastewater industry.
Check Out All Our Digital Offerings