For many people, including us, Fall and Winter are favorite times of the year. There are several things to look forward to, from football tailgates and holidays with family to sled riding with the kids. However, along with the fun can come treacherous weather conditions such as freezing temperatures, freezing rain, snow, sleet, and ice. In this Iron Strong Blog, we will discuss several topics related to cold weather Ductile iron pipeline (DI pipe) installations and how to ensure your utility isn't stranded out in the cold.
First, Let's Talk Safety
The safety of a crew is of utmost importance, and safety training should be at the top of a project checklist. Going from dry to wet conditions increases the potential for slick surfaces. Adding the potential for ice brings a new dimension to the subject. A daily review of project and site conditions is well worth the invested time.
Surfaces on tools and equipment can also become slick. Simply switching from summer to winter gloves can make a difference between smooth and difficult operations. Even the most experienced crew can benefit from daily safety talks.
Cold Weather Storage of Project Materials
Pipe: Is storing your materials the same during warm or cold temperatures? Absolutely not. Pipe stored in mud or freezing conditions can increase the potential for injury when handling materials. Excess cleaning time due to poor storage conditions increases installation times and decreases efficiency. Frozen debris on the spigot end of a pipe or inside the bell socket may result in a leak. Who wants to search for a leak on a good day, let alone when it is 32 degrees Fahrenheit outside?
Gaskets: Accessories do not necessarily need to be stored in a heated building. Still, they should be stored in a dry location away from snow or ice. Snow-covered labels on gasket bags or accessory boxes can result in extra time and frustration when determining which items are needed for the day.
Gaskets can become rigid and more difficult to install as the weather gets colder. Gaskets should always be stored in a warm location, such as the cab of a truck or excavator, prior to installation. This extra precaution allows the gasket to remain pliable and is easier to install in the field.
PRO TIP:  An innovative idea we came across was a contractor who mounted a toolbox on the side of the trench box. An electric heater was connected to a generator. Gaskets remained warm, while tools and supplies remained clean and dry before use and for the project's duration.
Lube: Typically, pipe lubricant is something that doesn't get much attention. However, using the lubricant supplied by the pipe manufacturer is highly recommended. McWane Ductile provides two brands of pipe lubricant. These lubricants have been tested and proven to perform in cold weather climates. Why risk the successful completion of a project on something as simple as pipe lube?
Fittings: Fittings should be stored on a pallet or dry surface with the bell facing up. Laying a fitting on its side allows water to pool inside the fitting. That water may freeze and cause unintentional damage to the lining. 
PRO TIP:  When storing Ductile iron fittings, keep them on a pallet with the fitting bell facing down to help prevent ice from forming inside the fitting bells.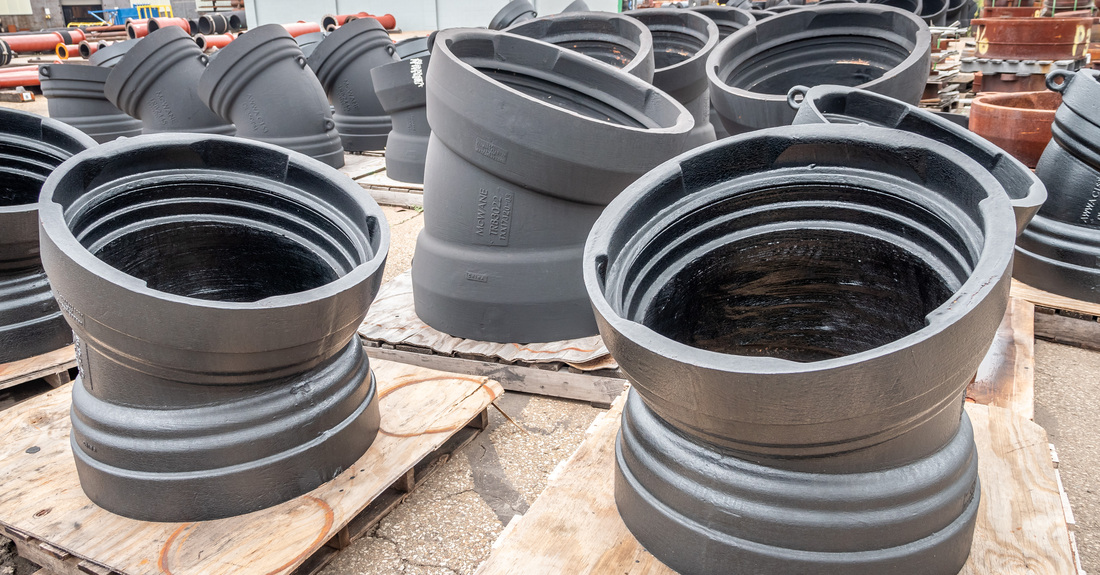 Fittings should be stored on a pallet or dry surface with the bell facing up.
Pipe Handling in Cold Temperatures
Material surfaces tend to become slick when temperatures move toward the freezing mark. Nylon slings and padded pipe tongs may be better options to prevent slipping vs. steel cables, slings, or metal chains, as metal-to-metal surfaces and cold temperatures can be tricky.
This treatment applies to all materials, including pipes, valves, hydrants, fittings, etc. Now would be a good time to remind operators not to run a lifting device through the inside diameter of the aforementioned items, as this may damage non-metallic items, linings, and coatings. 
It's essential to keep ground conditions affected by cold temperatures in mind. These surfaces make operating all equipment, from the backhoes to loaders and even pick-up trucks, more complex. No one wants to stop production to dig out equipment from an unintended incident. Speaking of pick-up trucks. A two-wheel drive vehicle may be sufficient for urban work, whereas a four-wheel drive is recommended for rural locations or areas with significant snow accumulation.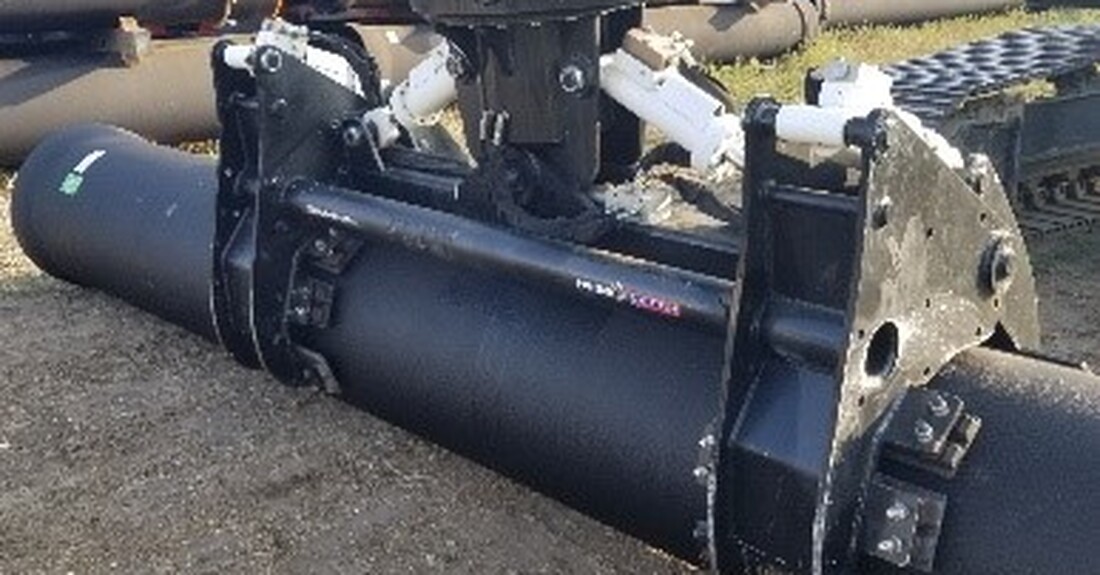 Pipe Clamp with Padded Grips
Blacktop Concerns
Many areas do not permit installing asphalt or concrete when temperatures drop below 40 degrees Fahrenheit. Additionally, asphalt plants close for the winter in some cold weather regions. Check local specifications before committing to work or ensure the project will be completed before winter conditions are likely.
Installation: Ice, Ice, Baby
Yeh, we're old enough to remember that song. We've also been around long enough to see the adverse effect of ice that was not removed from the bell socket before installing the gasket. This is how it works:  Water freezes in the gasket seat. The operator overlooks the "Black Ice" as it is difficult to see; and, thus, does not remove it. This oversight prevents the gasket from proper seating. The gasket is displaced when the pipe is homed—the joint leaks due to the root cause, which is the ice.
Days or weeks are lost looking for a leak when it is freezing outside. The leak is discovered, and a debate begins over what caused the leak as the water from the Hydrostatic Test melted the ice. If you've been there, done that, we feel for you. If you haven't been there, trust us– you don't want to!
Polyethylene Encasement
Some utilities do not permit polyethylene encasement to be pre-installed on pipe before trench installation. The probability of tears from handling is thus significantly reduced, and the polywrap is better enabled to perform as intended.
If pre-installation of polywrap is implemented, here are some key points to remember:
Pre-installing the polyethylene encasement requires extra lifting.
Be aware of the potential for injury during cold temperatures.
Stage the pipe on timbers which will help prevent the encased pipe from resting in ice, frozen mud, etc.
Install the polyethylene encasement on the spigot end of the pipe before sending the pipe to the trench.
Make the proper connection and home the pipe
After homing the pipe, slightly raise the pipe at the bell end and extend the polyethylene over the length of the pipe.
The taping of the fold at the 12 o'clock position can then be completed while the next section of the trench is excavated.
The pipe and polyethylene encasement should now be properly installed safely and effectively.
Hopefully, this sounds familiar, and you have read the ANSI/AWWA C105 Polyethylene Encasement for Ductile-Iron Pipe Systems.
Electrical Thawing for Ductile Iron Pipelines
Electrical thawing may be required in cold weather regions. Check out this Iron Strong Blog by McWane Ductile that covers various thawing methods for Ductile iron pipe.   
Remember that cable bonds and bronze wedges are often used for electrical thawing but are not intended for cathodic protection. Again, recall that electrical thawing systems should be installed only in areas where there is a concern for the water line to freeze. Another way to prevent freezing of the line is to adjust the depth of bury.
MYTH: A common misconception of Ductile iron pipeline conductivity is that restraint joints provide metal-to-metal contact, so they must be adequate for conductivity/thawing/cathodic protection.
TRUTH: Due to the installation of rubber gaskets throughout the Ductile iron pipeline system, they are not ideal for conductivity/thawing/cathodic protection.
Ductile Iron Design Considerations in Cold Weather
Thermal expansion of Ductile iron pipe is typically not a concern in properly designed and installed systems because of the nature of the joint. One of the best cold weather characteristics of DI pipe is that temperature does not affect DI pipe as it does with other pipe materials.
For instance, a 1,000-foot section of Ductile Iron pipe with a 10-degree temperature change would cause an expansion or contraction of 0.75 inches. By comparison, the same temperature change would cause a 3.75-inch expansion or contraction with PVC pipe, and a 10-inch expansion or contraction with HDPE. The physical properties of some alternate pipe materials can also change in cold weather, causing them to become brittle and lose significant material strength.
Conclusion
The time to complete a pipeline installation may span over several months. This increases factors one must consider when moving from a very warm summer to cold weather. McWane Ductile has provided you with a warm blanket of knowledge to assist you before breaking ground—or ice. Feel free to contact your local McWane Ductile representative for on-site training or information regarding this blog, or any other water topic. We are always here to assist you.